TENDA V12 AC1200 MBPS DUAL BAND KABLOSUZ 4 X GIGABIT PORT FİBER VDSL/ADSL MODEM ROUTER
Description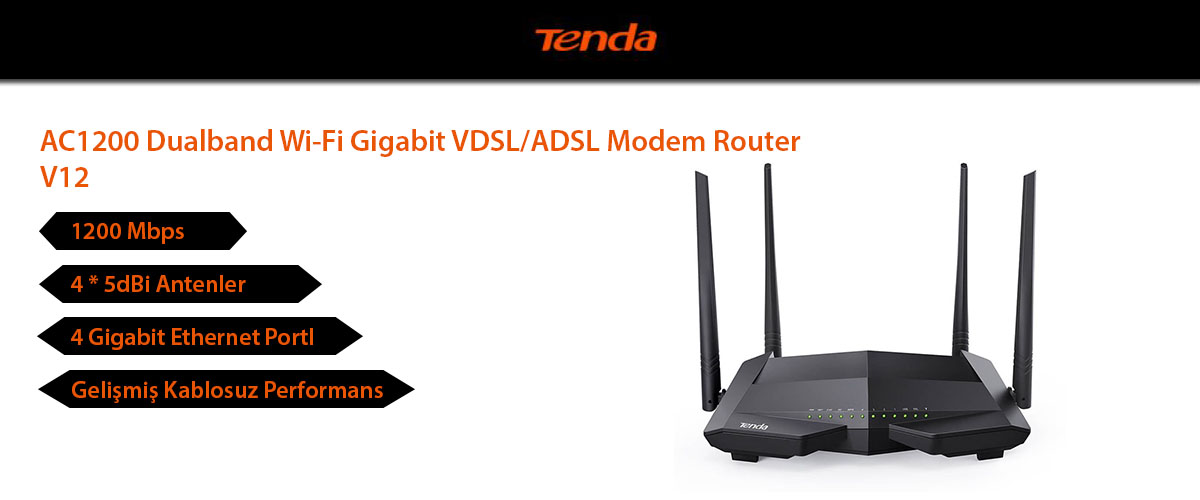 V12 Üst düzey tasarıma sahip V12, VDSL kullanıcılarına yüksek hızlı kablosuz bağlantı hızıyla AC1200 yeni nesil kablosuz ağ teknolojisini sunuyor. VDSL Standartlarıyla yüksek hız: Tenda V12 VDSL2 Profile 35b'yi destekler ve ayrıca VDSL, ADSL2 +, ADSL2 ve ADSL ile ayrıca uyumludur; AC1200 Çift Bant Wi-Fi: Aynı anda hem 5GHz'de 867Mbps hem de 2.4 GHz'de 300Mbps hız sunar; Üstün Wi-Fi Kapsama Alanı: 4 * 5dBi Anten, Beamforming teknolojisi ve MU-MIMO Teknolojisi ile pürüzsüz HD video aktarımıyla stabil ve istikrarlı ağ bağlantısını bir araya getiriyor. Ayrıca V12 üstün donanımsal yapısı sayesinde Fiber veya kabloyla VDSL / ADSL ve Ethernet WAN bağlantı türleri ; 4 * Tam Gigabit Ethernet Bağlantı Noktası: Ultra hızlı veri aktarımı için Gigabit kablolu hızı size sunuyor. Kurulum aşamasında ise Tenda'nın yenilikçi çözümleri ile konfigürasyon hiç olmadığı kadar kolay ve hızlı.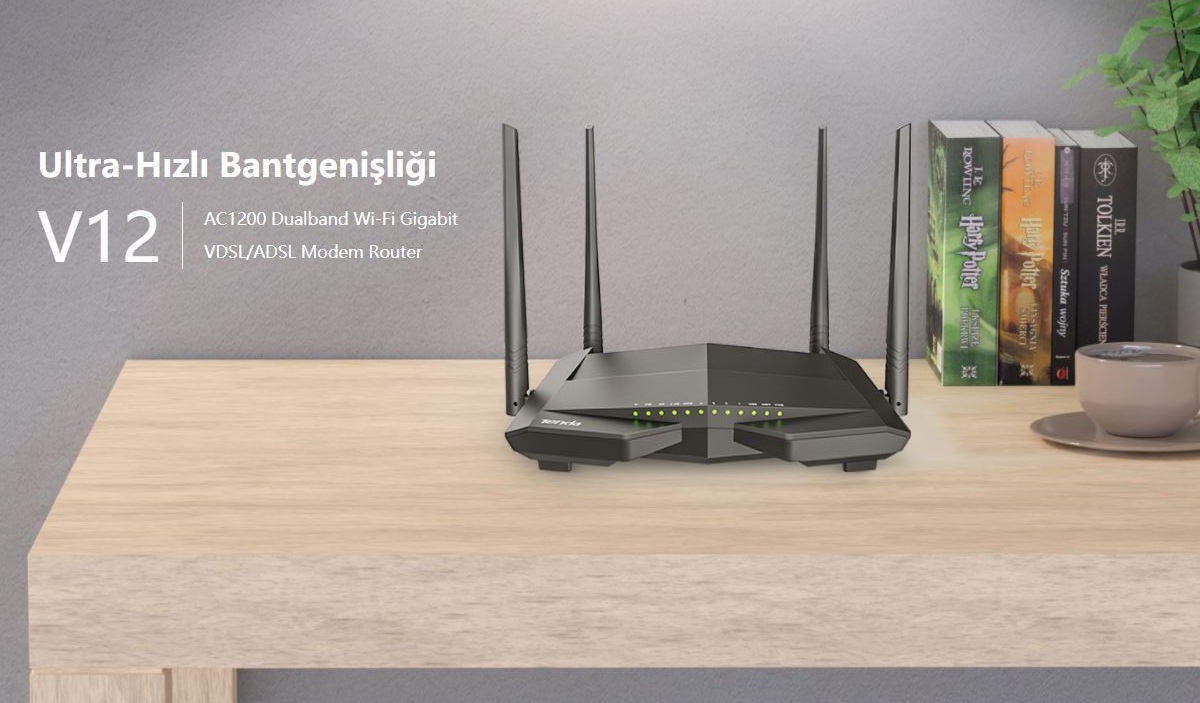 VDSL Standartları ile yüksek hız V12 VDSL2 Profile 35b'yi destekler, 300 Mbps'ye kadar indirme hızları, VDSL, ADSL2 +, ADSL2 ve ADSL dahil tüm DSL standartlarını destekleyen entegre bir bağlantı noktasına sahiptir.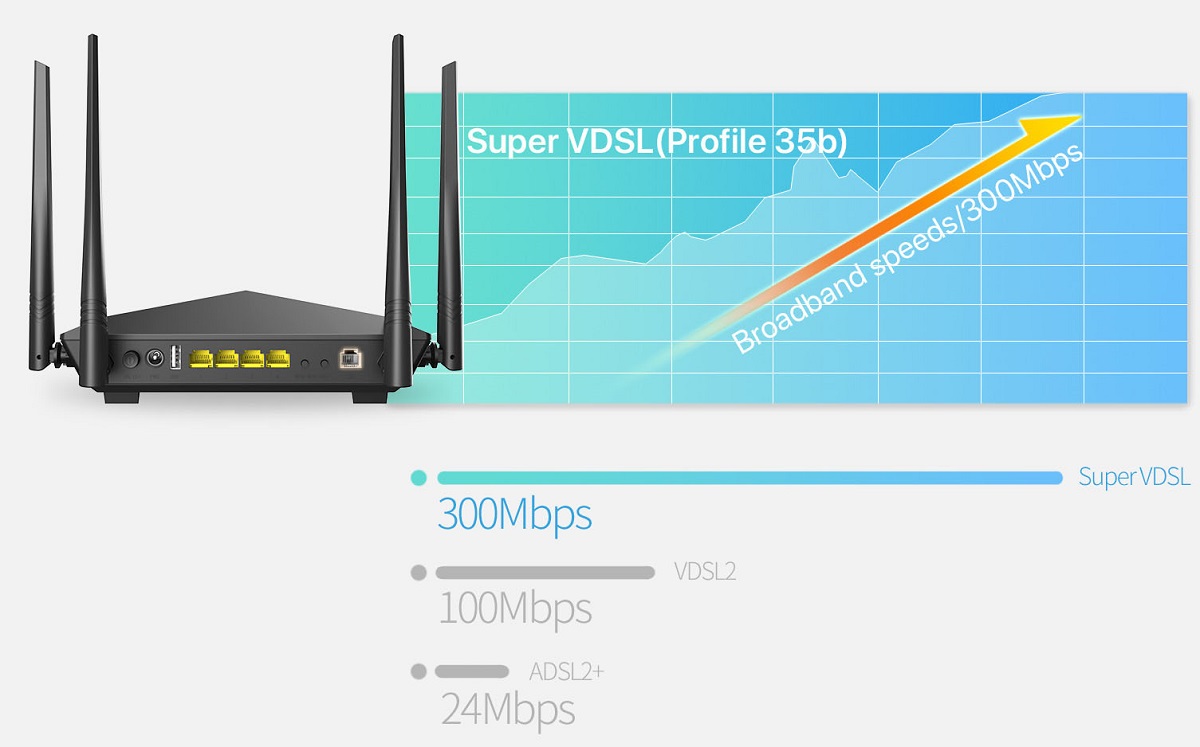 Kablosuz AC1200 ile Sorunsuz Akış V12, 2.4GHz bandında 300Mbps ve 5GHz bandında 867Mbps dahil olmak üzere 1167Mbps'ye kadar birleşik çift bant Wi-Fi hızları sağlayarak internet bağlantınızın tam potansiyelini açığa çıkarır ve çevrimiçi deneyiminizdeki gecikmeleri ve arabelleğe almayı ortadan kaldırır.

Üstün Kablosuz Kapsama 4 * 5dBi yüksek performanslı harici antenler, en üst düzey sörf eğlencesinin tadını çıkarmak için evinizin her yerinde Wi-Fi'yi güçlendirir. Eşzamanlı, gecikmesiz akış ve iyi oyun deneyimleri için MU-MIMO ve Beamforming teknolojisi.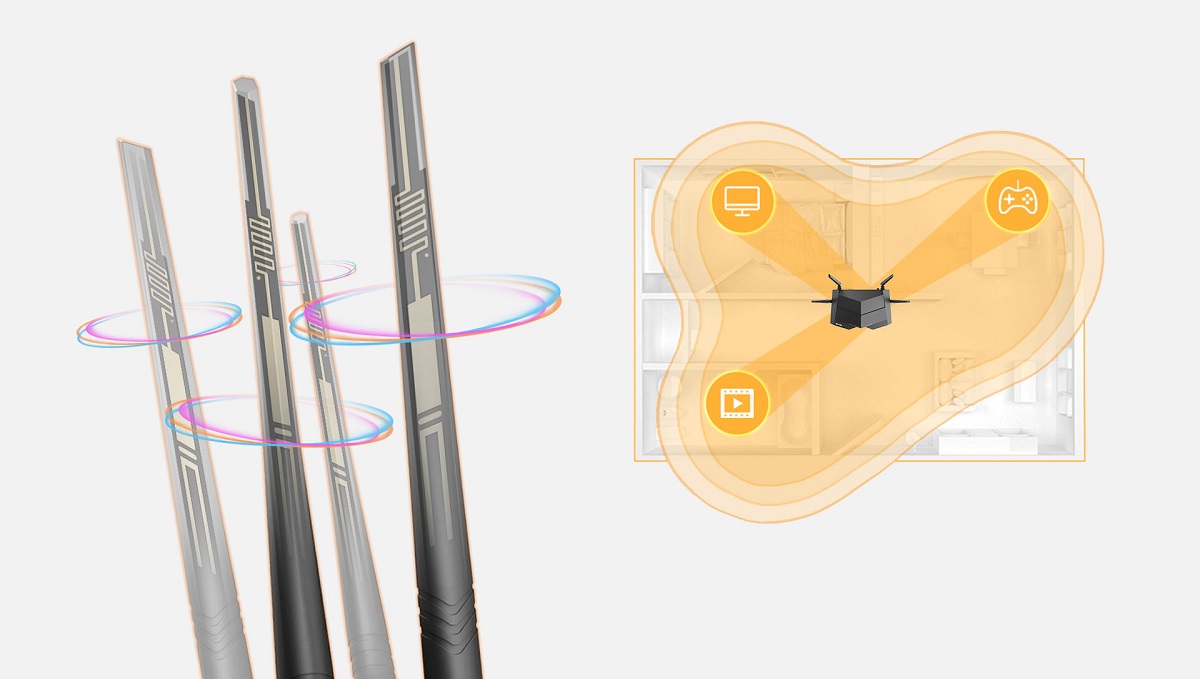 4 Gigabit Ethernet Bağlantı Noktasıyla Hızlı Kablolu Performans V12, tam Gigabit Ethernet bağlantı noktalarının standart Ethernet'ten 10 kat daha hızlı çalışmasını sağlar. Bilgisayarlara, TV'lere, NAS'lara ve oyun konsollarına hızlı, güvenilir kablolu bağlantılar sağlayın.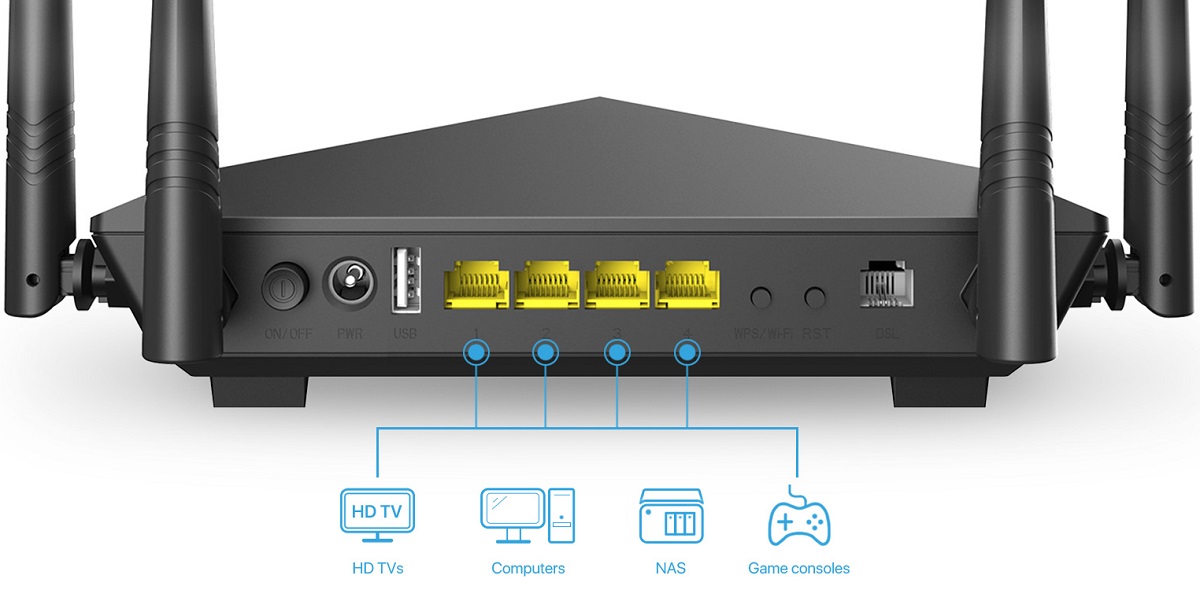 Hepsi Bir Arada Cihaz V12, ev ağı için tek noktadan çözüm sağlar. VDSL 2 modem, Wi-Fi yönlendirici, 4-Portlu anahtar vb. Tüm işlevlerini birleştirir.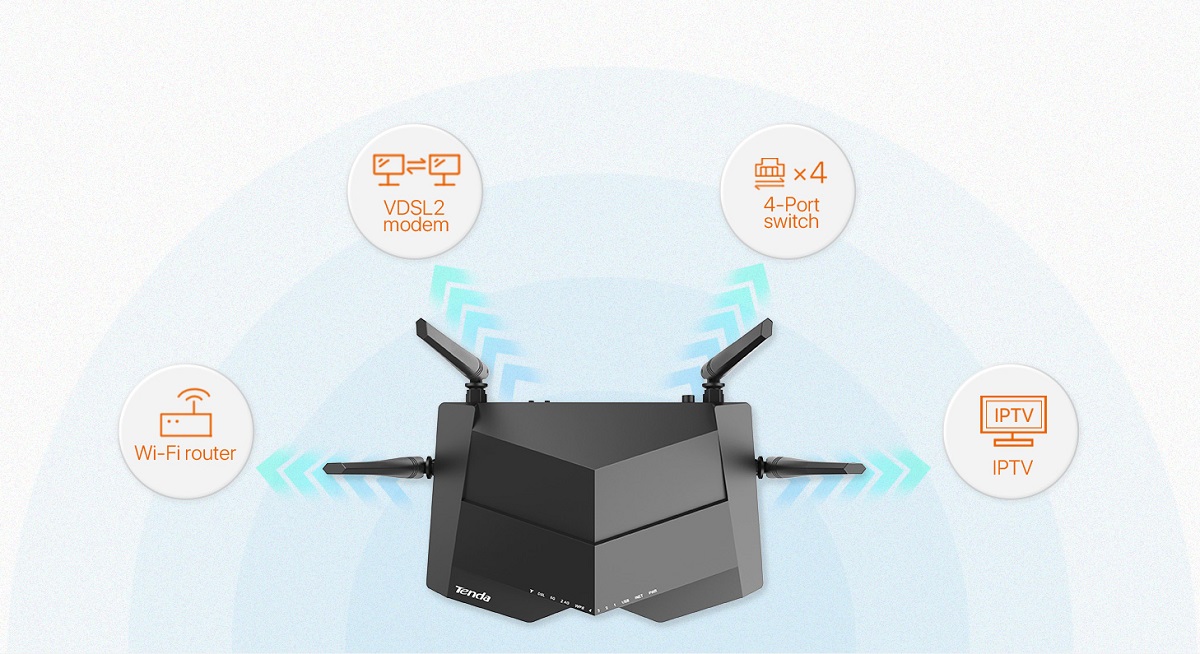 Yedek Bağlantı V12, fiber veya kabloyla VDSL / ADSL ve Ethernet WAN bağlantı türleri sağlayarak kullanıcıların çoklu senaryolarda internete erişmesini sağlar.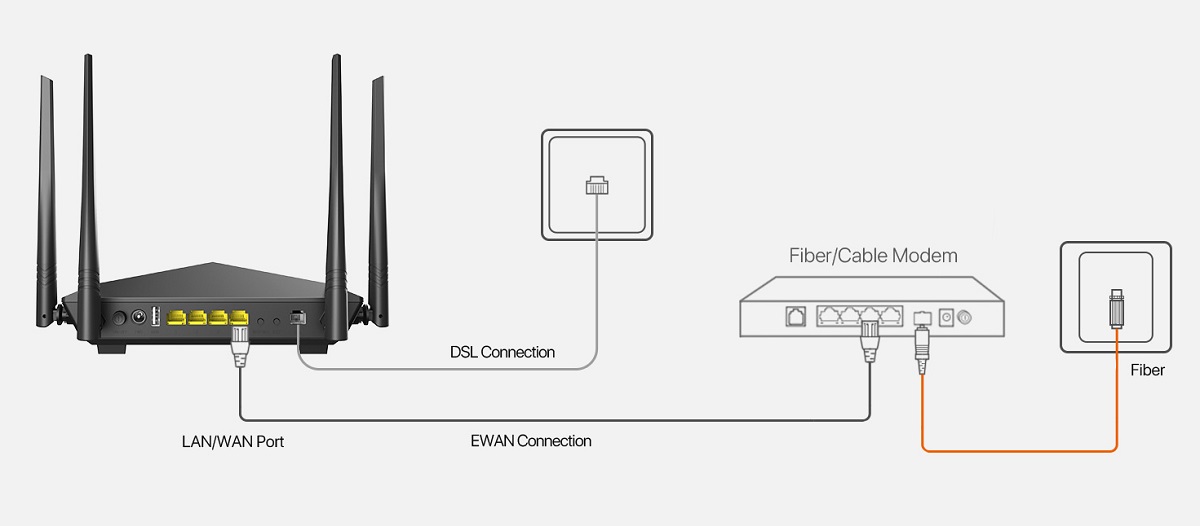 Kolay Kurulum ve Kullanım Tenda'nın benzersiz süper kolay kurulum tasarımı ile V12, ağ ve Wi-Fi işlevlerinin yapılandırmasını hızlı bir şekilde gerçekleştirebilir.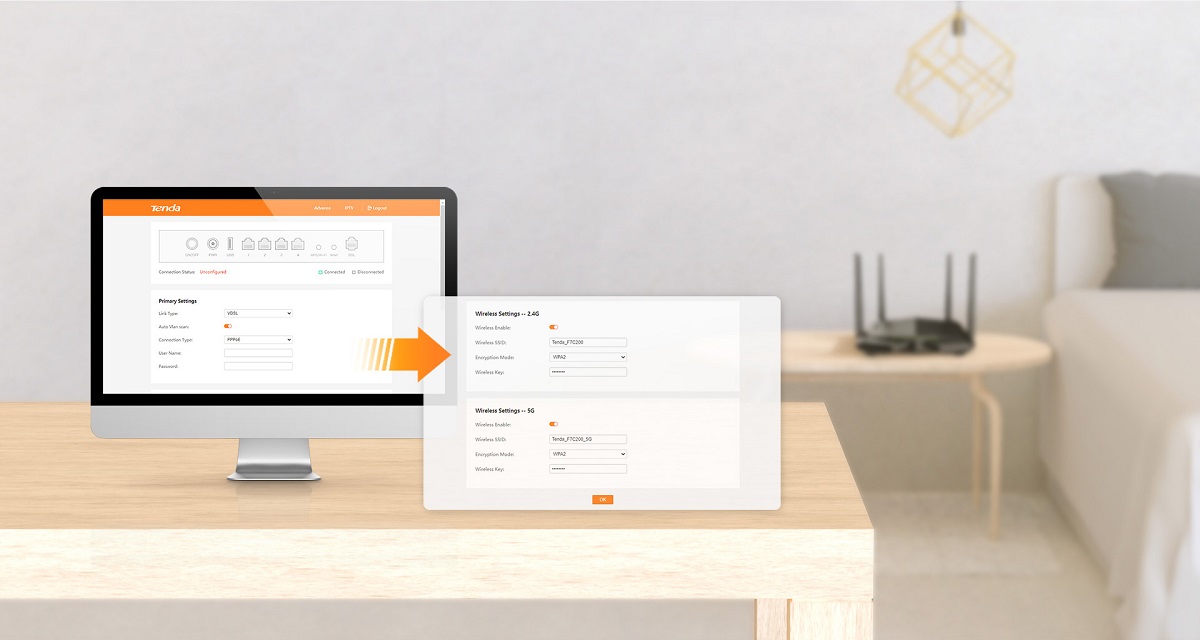 Daha fazla özellik

Tenda Hakkında
1999 yılında kurulan Tenda, dünya genelinde network aygıtları ve ekipmanları alanında lider üretici ve tedarikçilerinden biridir. Kolay kurulum sahip uygun fiyatlı ağ çözümleri sunan, insanların akıllı yaşam konseptini gerçekleştirmelerinde inovatif ve en modern ürünleri sunmayı hedefleyen uluslararası bir kuruluş olarak hizmet vermektedir.
Yenilik, Tenda teknolojisinin ruhudur. Tenda'nın yaklaşık 1000 çalışanı bulunan, Shenzhen ve Chengdu iki Ar-Ge merkezi bulunmaktadır; Yaklaşık 3000 çalışanı ve 120000 m2 üretim alanına sahip olan yeni üretim tesisi ise inşaat aşamasındadır.
Tenda ürünleri arasında ev ağları, iş ağı, switch, geniş bant CPE, ağ geçidi, enerji hatları, mobil geniş bant, IP kamera vb. birçok önemli ürünü bulunmaktadır. Mükemmel performans, kaliteli sinyal dağıtımı, kolay kullanım ve kurulum, uzun kullanım ömrü ve en uygun fiyata en yüksek kalite tüm Tenda ürünlerinin ortak özelliğidir.
Tenda, kurumsal kültürü ile dünya genelinde birçok yetenekli genç mezunun büyük kısmının dikkatini çekmektedir. Dünya'nın en önemli üniversitelerinden yaklaşık 120 mezun her yıl Tenda'ya katılarak kurumsal gelişimimize ciddi katkılarda bulunmaktadırlar.

*İstediğiniz yerde ağ ömrünü hızlandırın, koruyun ve akıllı hale getirin.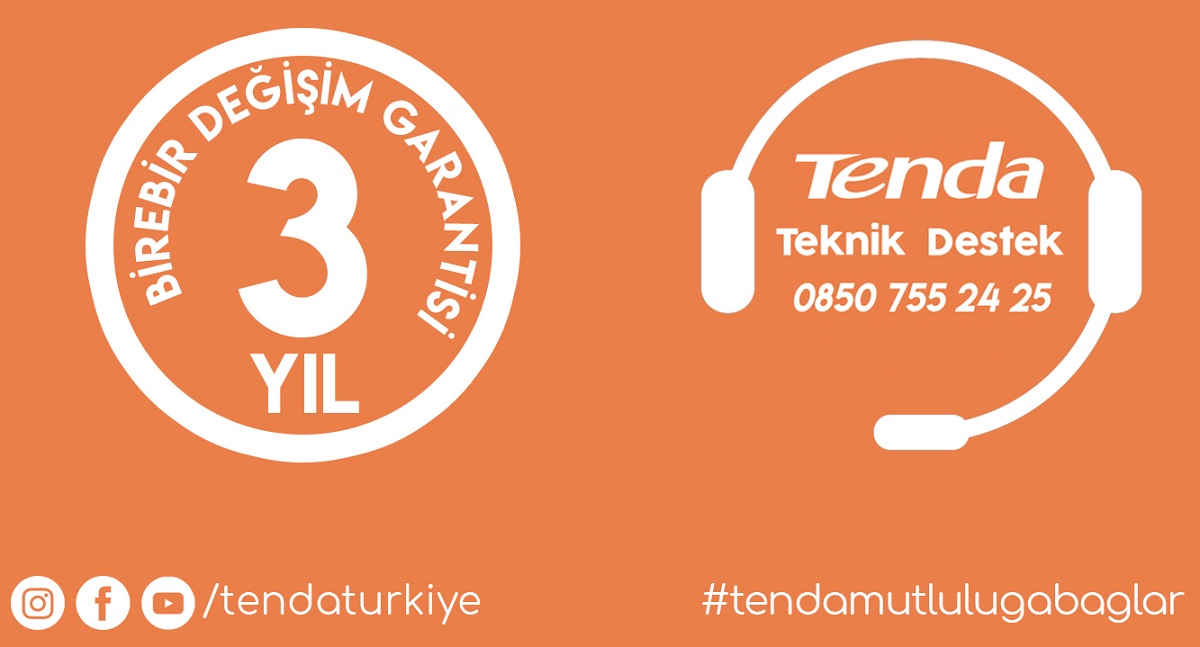 ÖZELLİKLER
Model
V12
IEEE Standards
IEEE802.11b/g/n,IEEE802.11ac, IEEE 802.3, 802.3u,IEEE 802.1Q
xDSL Standard & Protocol
ITU G.993.2, Up to 17a /30a/35b profile
ITU-T G.993.5 (G.vector)
ITU-T G.998.4 (G.INP)
Full-rate ANSI T1.413 Issue 2
ITU-T G.992.1(G.DMT)
ITU-T G.992.2(G.Lite)
ITU-T G.994.1 (G.hs)
ITU-T G.992.3 (G.DMT.bis)
ITU-T G.992.5
Arayüz
3 *10/100/1000 RJ45 LAN Ports
1 *10/100/1000 RJ45 LAN/WAN Port
1 *RJ11 Port
1 * USB 2.0 Port
Boyut
220x141.6x59mm(W * D * H)
Buton
WPS & Wi-Fi
RST
Power
Harici Güç Kaynağı
12V 1.5A
LED
Power,Internett,USB,LAN(1-4),WPS,WLAN 2.4G,WLAN 5G,DSL
Belgeleme
CE, RoHS
Protocol
Supports IPv4 and IPv6
ATM/PPP Protocols
ATM Forum UNI3.1/4.0, PPP over ATM (RFC 2364),PPP over Ethernet (RFC2516), IPoA (RFC1577/2225), MER\IPoE (RFC 1483 Routed), Bridge (RFC1483 Bridge), PVC – Up to 8 PVCs
WAN Bağlantı Türü
PPPoE , Dynamic IP, Static IP, Bridge
Business Type
TR069, Internet, IPTV
TX Power
DDNS,UPnP,Samba,FTP Server,Port Forwarding,DMZ,IPTV
DHCP
DHCP Server,Client List, Address Reservation
Quality of Service
QoS Settings
Yönetim
Web Based Con guration(HTTP), Remote management,command Line Interface, SSL for TR-069, SNMP v1/2c, Web Based Firmware Upgrade, Diagnostic Tools
İleri Fonksiyonlar
Routing & IPv6 Routing,TR069,Port Mapping(Grouping), Static Routing, DNS Relay, IGMP
Firewall
IP & Port Filtering & IPv6/Port Filtering,URL Blocking,DDOS
TR-069
ACS, Connection request
IPv6
Radvd config,DHCPv6 config
USB Paylaşımı
Samba
Diğer İşlev
VPN,ALG,Ping Diagnostics,System Log,DSL Statistics
Kablosuz Standartlar
IEEE 802.11a/n/ac 5GHz
IEEE 802.11b/g/n 2.4GHz
IP Version
20M/40M/80M
Services
2.4G:Auto,CH1-CH13
5G: Auto,CH36-CH48
Anten
4 * 5 dBi Antenna
Kablosuz Hız
300Mbps at 2.4GHz
867Mbps at 5GHz
İletim Gücü
2.4GHz <20dBm(EIRP)
5GHz <23dBm(EIRP)
Kablosuz İşlev
Enable/Disable Wireless Radio,Wireless Repeating,Guest network,Access Control,WPS
Kablosuz Güvenlik
None, WPA,WPA2,WPA/WPA2
Depolama Sıcaklığı
-40°c ~ 70°c
Çalışma Sıcaklığı
0°~40° (32° ~104°)
Çalışma Nemi
10% ~ 90% (Non-condensing)
Depolama Nemi
5% ~ 90% (Non-condensing)
Paket İçeriği
AC1200 Dualband Wi-Fi Gigabit VDSL Modem Router*1
External Splitter*1
Power Adapter*1
RJ11 DSL Cable*2
RJ45 Ethernet Cable*1
Quick Installation Guide*1
Features
Warranty Period:
36 Months
_payment_options
Installment plan
Monthly Payment
Total price
Artı (ek) taksit kampanyası bankanızın inisiyatifinde olup şartları değişebilmektedir. Kampanyaya Akbank Axess kartlar dahil olup diğer banka kartları kampanyaya dahil değildir.
Installment plan
Monthly Payment
Total price
Artı (ek) taksit kampanyası bankanızın inisiyatifinde olup şartları değişebilmektedir. TEB bireysel ve ticari kartlar ile Şekerbank ticari kartlar kampanyaya dahil değildir.
- Vade farksız taksitler KOYU renkte gösterilmektedir.
- X+X şeklinde belritilen taksitler (Örneğin: 2+3) 2 taksit olarak işleme alınmakta ancak ilgili bankanın kampanyası dahilinde 2 taksit üzerinden işlem yapıldığı halde 2+3 yani 5 taksit olarak kartınıza ve ödemenize yansımaktadır. (2 taksit seçilmiş olsa bile banka kampanyası dahilinde ekstradan vade farkı eklenmeden işlem 5 taksite bölünmektedir.) Kampanya bankanıza bağlı olup tüm kartlarda geçerli olmayabilir.
Reviews
Please sign in so that we can notify you about a reply