TP-LINK ARCHER T9UH AC1900 YÜKSEK KAZANÇLI KABLOSUZ ÇİFT BANT USB ADAPTÖR
TP-Link Archer T9UH AC1900 Yüksek Kazançlı Kablosuz Çift Bant USB Adaptör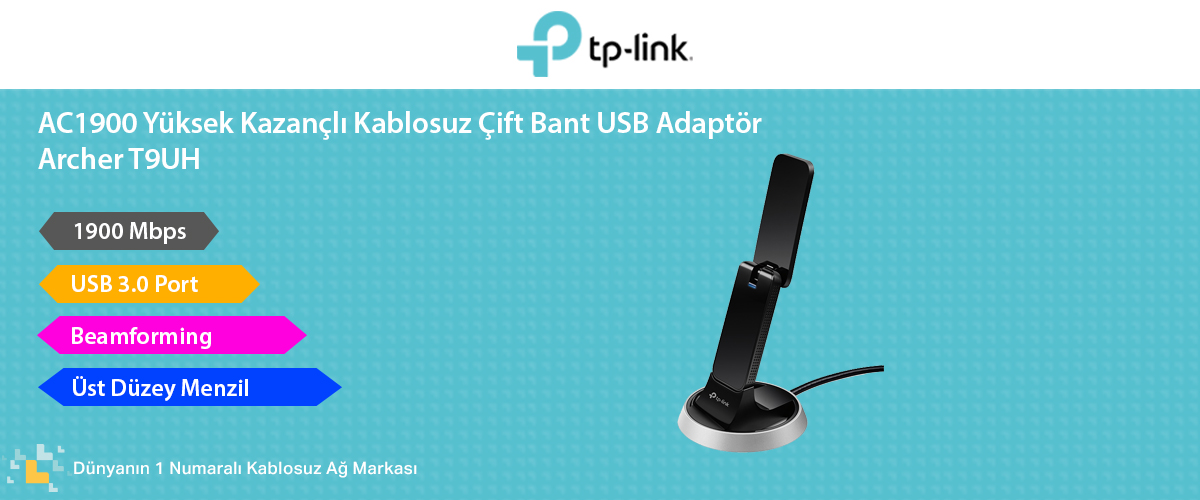 Üst Düzey WiFi Hızı – Yeni nesil WiFi 802.11ac ile AC1900 (2.4GHz bandında 600Mbps veya 5GHz bandında 1300Mbps) kablosuz hızı
Çift Bantlı Kablosuz – Esnek bağlanılırlık için 2.4GHz ve 5GHz bantları
Üst Düzey Menzil – Yüksek kazançlı antenler üstün menzili ve stabiliteyi sağlar
Beamforming Teknolojisi – Daha hedeflenen ve yüksek verimliliğe sahip kablosuz bağlantıları iletir
Süper Hızlı USB 3.0 Port – USB 2.0'dan 10 kata kadar daha hızlı
Esnek Yerleşim – Esnek yerleşim için bir USB 3.0 Yuvası ile donatılmıştır
WPS Butonu - WPS butonuna tek bir basış ile kolay kablosu güvenlik şifreleme
Geçmişle Uyumluluk – 802.11 a/b/g/n standartları desteği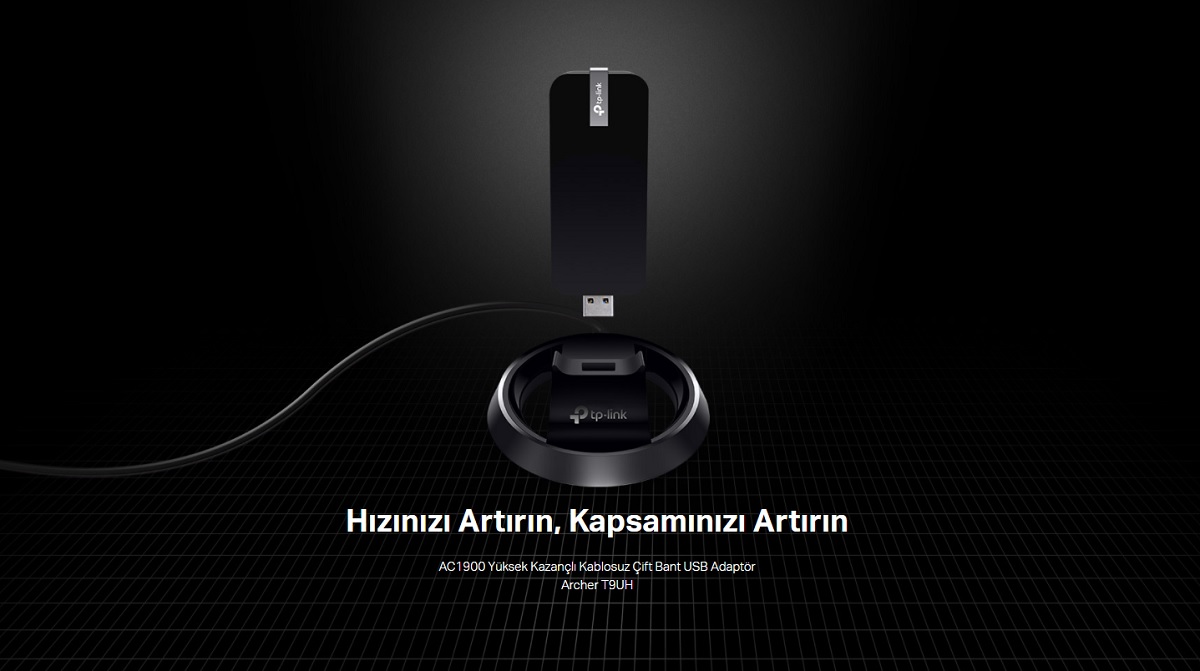 AC1900 Yüksek Kazançlı Kablosuz Çift Bant USB Adaptör Archer T9UH, PC'nizin veya laptop'unuzun AC1900 çift bantlı routerlar tarafından oluşturulan yüksek hızlı WiFi'nin tüm avantajlarından faydalanmasına olanak sağlar. Kablosuz AC teknolojisi ile Kablosuz N'den 3 kat daha hızlı olan bağlantıların keyfini çıkarın.

Yüksek Kazançlı Antenler ile Daha Güçlü Kapsam Dört adet yüksek kazançlı anteni ile Archer T9UH, routerınızın başka bir katta olsa bile eviniz boyunca stabil bir WiFi bağlantısı sunar.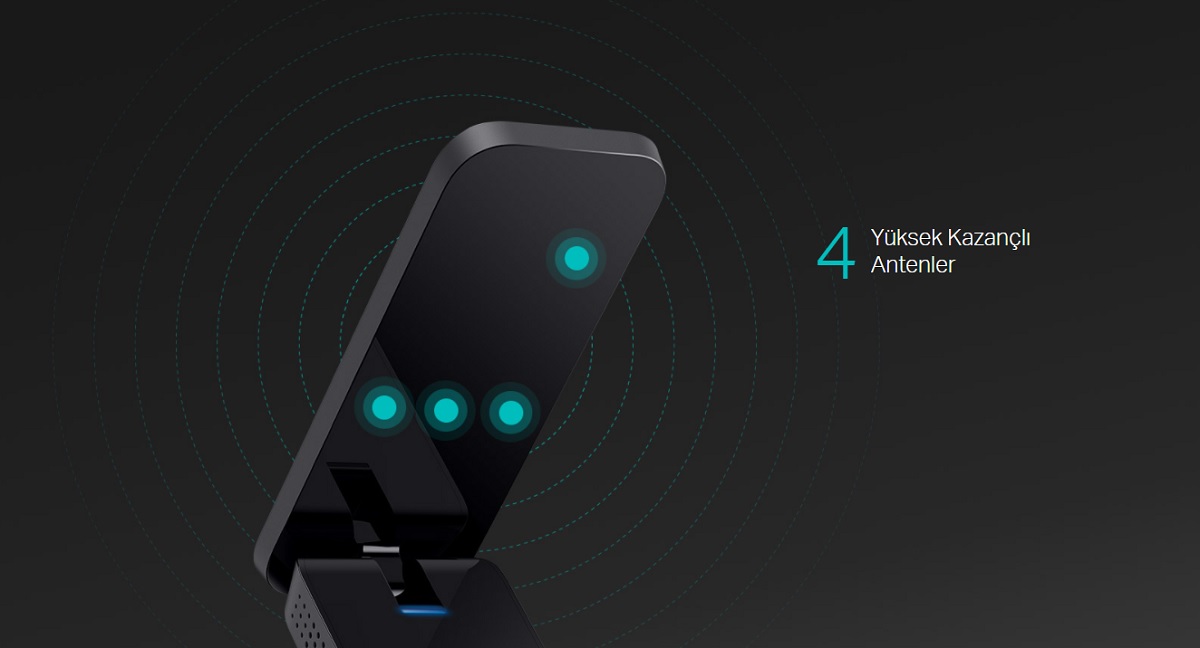 Esnek Tasarım ile Kolay Kullanım USB 3.0 kablo, çalışma alanınızda Archer T9UH için olan noktayı kolayca bulmanıza yardımcı olur ve adaptör ihtiyacınız olduğu zaman kolayca bilgisayarınıza takılabilir ve bilgisayarınızdan çıkarılabilir.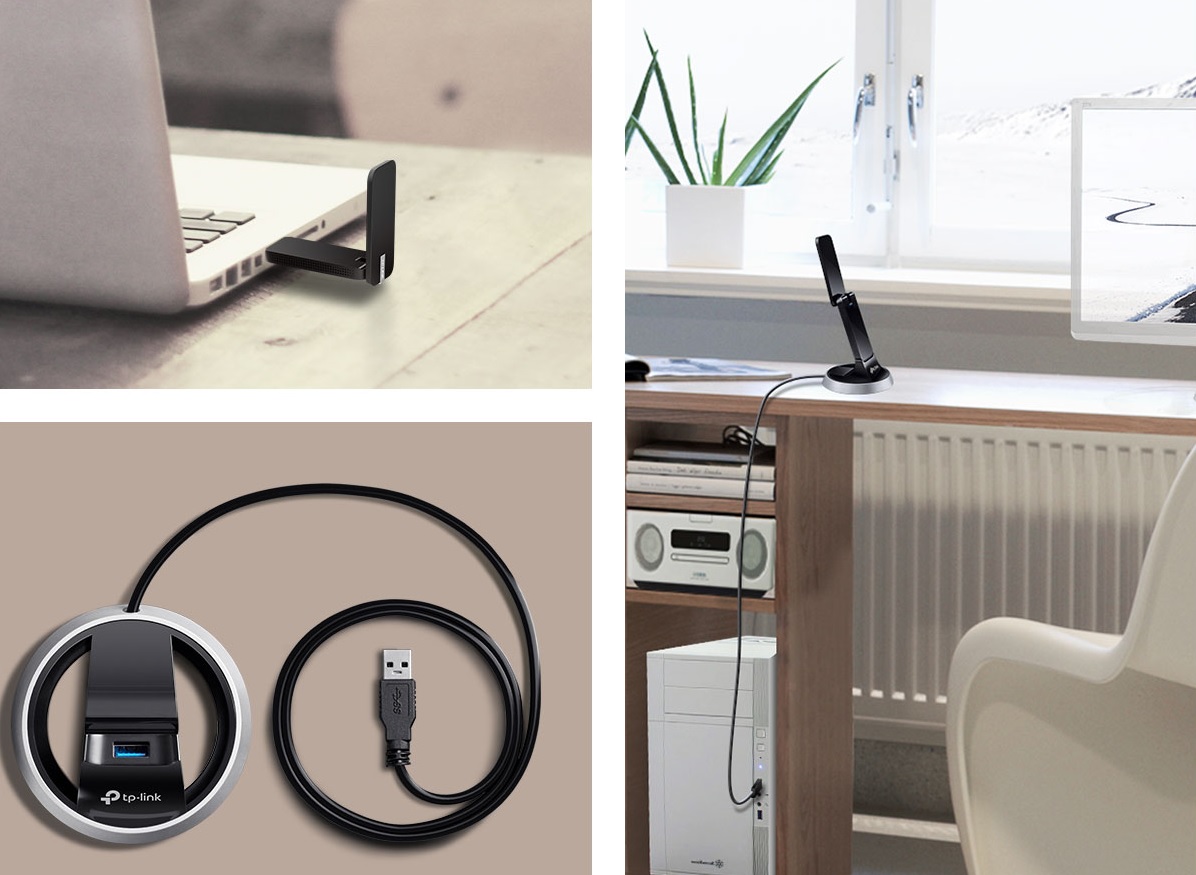 TP-Link Hakkında
TP-Link 120'yi aşkın ülkede bulunan ve milyonlarca müşterisi ile beraber dünyanın 1 numaralı kablosuz ağ üreticisidir Güçlü ARGE'si, verimli ve sıkı yönetimi ile beraber, tüm dünya çapındaki kullanıcılar için, ADSL, Routers, IP Kameralar, Powerline Adatörler, Pirint Sunucular, Medya Çeviriciler ve Ağ sunucuları ile beraber ödül kazanan ürünler üretmeye devam etmektedir.

Milyonlarca kullanıcının vermiş olduğu güvenle, TP-Link rekabetçi ağ markalarının içinde ağ ürünleri üreterek dünyada ilk 3 sıraya girmeyi hedefleyen ve dünya pazarında değerli müşterilerimizin hayatını kolaylaştıracak ağ ürünlerini dünya pazarına sunmaya devam etmektedir.

DONANIM ÖZELLİKLERİ
Arabirim
USB 3.0
Buton
WPS button
Boyutlar ( W X D X H )
3.96×1.44×0.56in. (100.53×36.6×14.3mm)
Anten Tipi
Omni Directional
KABLOSUZ ÖZELLİKLERİ
Kablosuz Standartlar
IEEE 802.11ac, IEEE 802.11a,IEEE 802.11n,IEEE 802.11g, IEEE 802.11b
Frekans
5GHz,2.4GHz
Bağlantı Hızı
5GHz:
11ac: Up to 1300Mbps(dynamic)
11n: Up to 450Mbps(dynamic)
11a: Up to 54Mbps(dynamic)
2.4GHz:
11n: Up to 600Mbps(dynamic)
11g: Up to 54Mbps(dynamic)
11b: Up to 11Mbps(dynamic)
İletim Gücü
<20dBm (EIRP)
Kablosuz Modları
Ad-Hoc / Infrastructure mode
Kablosuz Güvenlik
Support 64/128 bit WEP, WPA-PSK/WPA2-PSK, 802.1x
Modülasyon Teknolojisi
DBPSK, DQPSK, CCK, BPSK, QPSK, 16-QAM, 64-QAM, 256-QAM
DİĞERLERİ
Sertifika
CE, FCC, RoHS
Paket İçeriği
Wireless Adapter Archer T9UH
Resource CD
Quick Installation Guide
USB Cradle
Sistem Gereksinimleri
Windows 10 (32/64bits),
Windows 8.1 (32/64bits), Windows 8 (32/64bits),
Windows 7 (32/64bits), Windows XP(32/64bits),
Mac OS X 10.7~10.10, Linux
Ortam
Operating Temperature: 0℃~40℃ (32℉~104℉)
Storage Temperature: -40℃~70℃ (-40℉~158℉)
Operating Humidity: 10%~90% non-condensing
Storage Humidity: 5%~90% non-condensing
Warranty Period:
36 Months
Installment plan
Monthly Payment
Total price
- Vade farksız taksitler KOYU renkte gösterilmektedir.
- X+X şeklinde belritilen taksitler (Örneğin: 2+3) 2 taksit olarak işleme alınmakta ancak ilgili bankanın kampanyası dahilinde 2 taksit üzerinden işlem yapıldığı halde 2+3 yani 5 taksit olarak kartınıza ve ödemenize yansımaktadır. (2 taksit seçilmiş olsa bile banka kampanyası dahilinde ekstradan vade farkı eklenmeden işlem 5 taksite bölünmektedir.) Kampanya bankanıza bağlı olup tüm kartlarda geçerli olmayabilir.