TP-LINK TL-WR840N 300 MBPS KABLOSUZ 4 PORT ACCESS POINT/ROUTER
TP-Link TL-WR840N 300 Mbps Kablosuz 4 Portlu Menzil Genişletici/Access Point/Router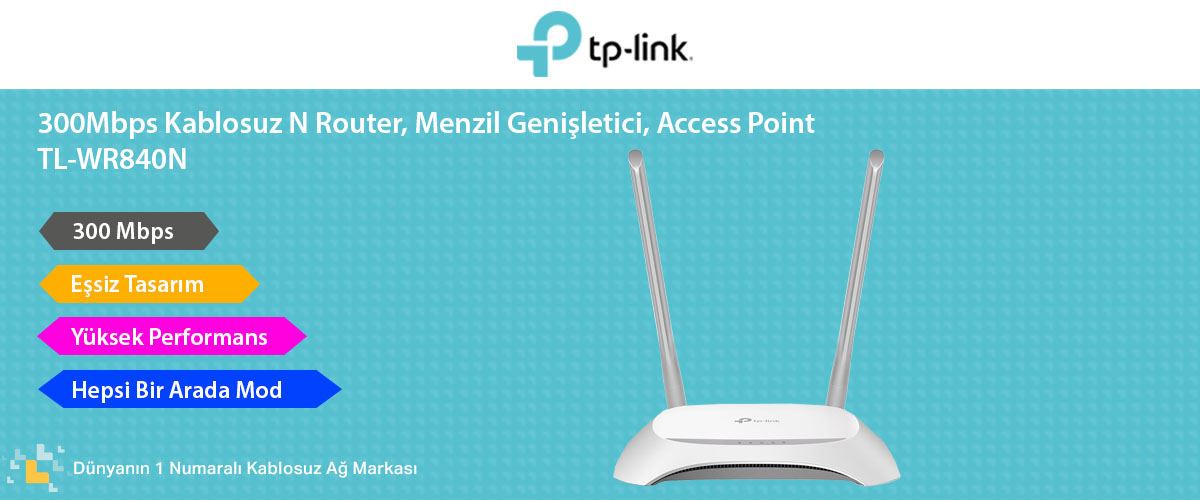 300Mbps'e kadar aktarım oranları temel görevler ve bant genişliğine hassas uygulamalar için idealdir
WPS butonu ile kolayca kablosuz ağ güvenliğini sağlama
IP tabanlı bant genişliği kontrolü, yöneticilerin her bir bilgisayar için tahsis etmek istediği bant genişliğini belirlemesine olanak tanır
WDS kablosuz köprüleme kablosuz ağınızı genişletebilmeniz için kusursuz köprüleme sağlar
Router, Menzil Genişletici ve Access Point modu ile hepsi bir arada mod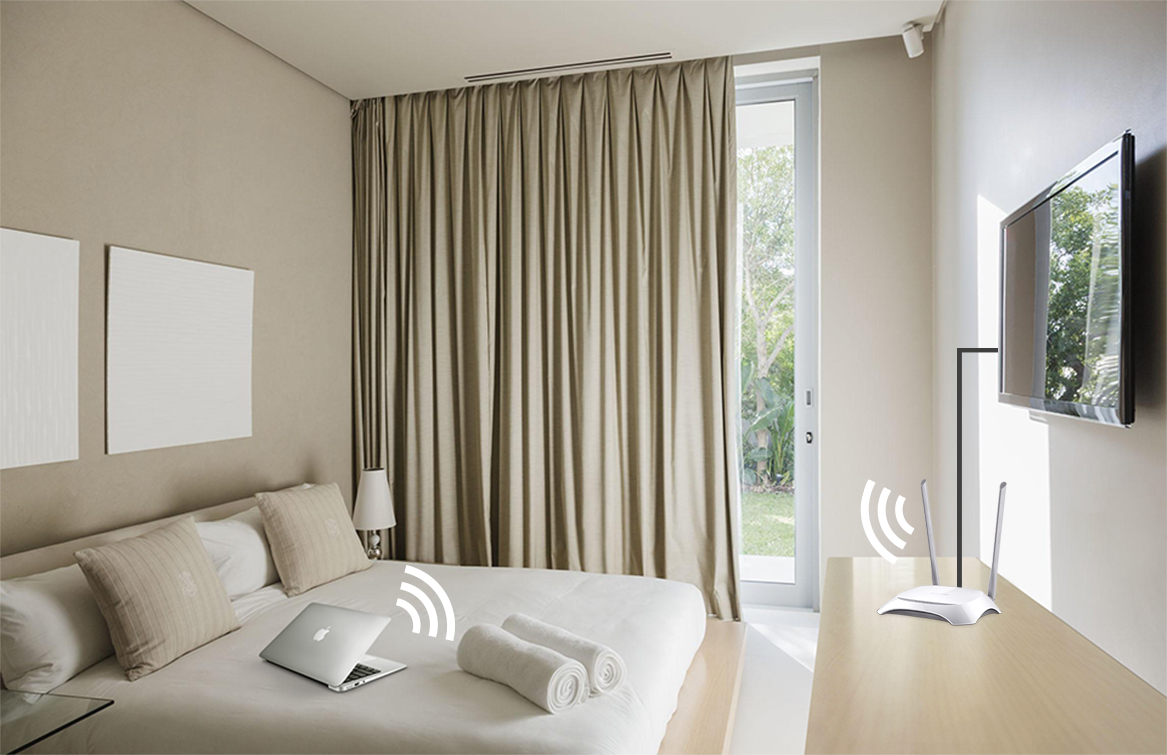 Bu Ürün Nedir? 300Mbps Kablosuz N Router TL-WR840N küçük ofis ve ev ağ gereksinimleri için özel olarak dizayn edilmiş bir birleşik kablolu/kablosuz ağ bağlantı cihazıdır. TL-WR840N gelişmiş kablosuz performansı ve sıradışı özelikleri ile akıcı HD videolar, VoIP ve online oyunlar için yoğun bant genişliği sarf eden bu gibi görevlerin başarıyla üstesinden gelir. Aynı zamanda, Wi-Fi Protected Setup (WPS) butonu aracılığıyla kolay ve son derece güvenli WPA2 şifreleme oluşturabilir, böylelikle ağınızı izinsiz girişlere ve dış tehditlere karşı koruma altına alır.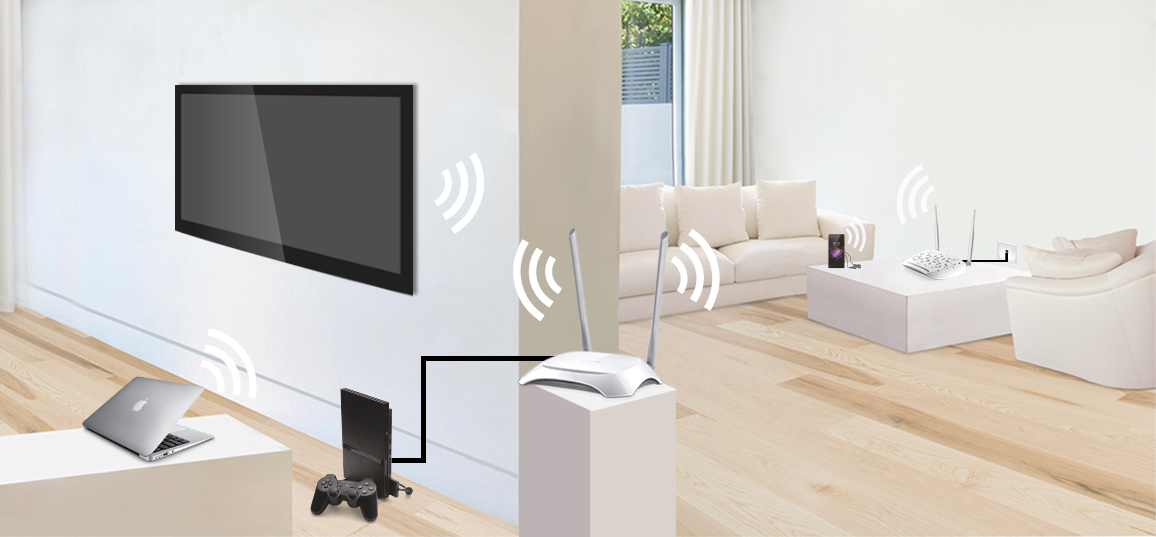 300Mbps Kablosuz N Hız - Süper Hızlı İndirme TP-LINK'in TL-WR840N'i IEEE 802.11b/g/n ile uyumluluğu yüksek hızlı çözüm sunar. 802.11n teknoloji temelli TL-WR840N HD yayınlar, online oyunlar ve büyük dosyaların aktarımı gibi ev ağınızdaki son derece zahmetli görevler için kullanıcılara 300Mbps'e kadar kablosuz hızlar sunar.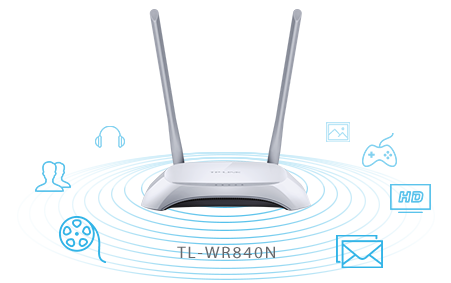 CCA Teknolojisi - Daha Kararlı Kablosuz Sinyaller Clear Channel Assessment (CCA) otomatik olarak temiz kanal seçimi özelliğini kullanarak kanal çatışmalarını önler ve böylelikle büyük ölçüde kablosuz performansı artırarak tamamen bağlanılan kanalın avantajlarını sunar.

Hepsi Bir Arada ( Router, Menzil Genişletici, Access Point ) Router, Menzil Genişletici, Access Point modları kullanıcıya cihazın kurulumunda daha fazla seçenek sunarak daha fazla çeşitte çalışma ortamında kullanılabilmesini sağlıyor. Çoklu modları arasından seçim imkanı çeşitli alanlarda daha dinamik ve esnek kullanım sunuyor. Kablosuz ağınızı kolayca kurabilir, varolan bir kablosuz ağa bağlanabilir veya varolan bu ağı tekrarlayarak kablosuz sinyalin erişemediği ölü noktaları yok edebilirsiniz.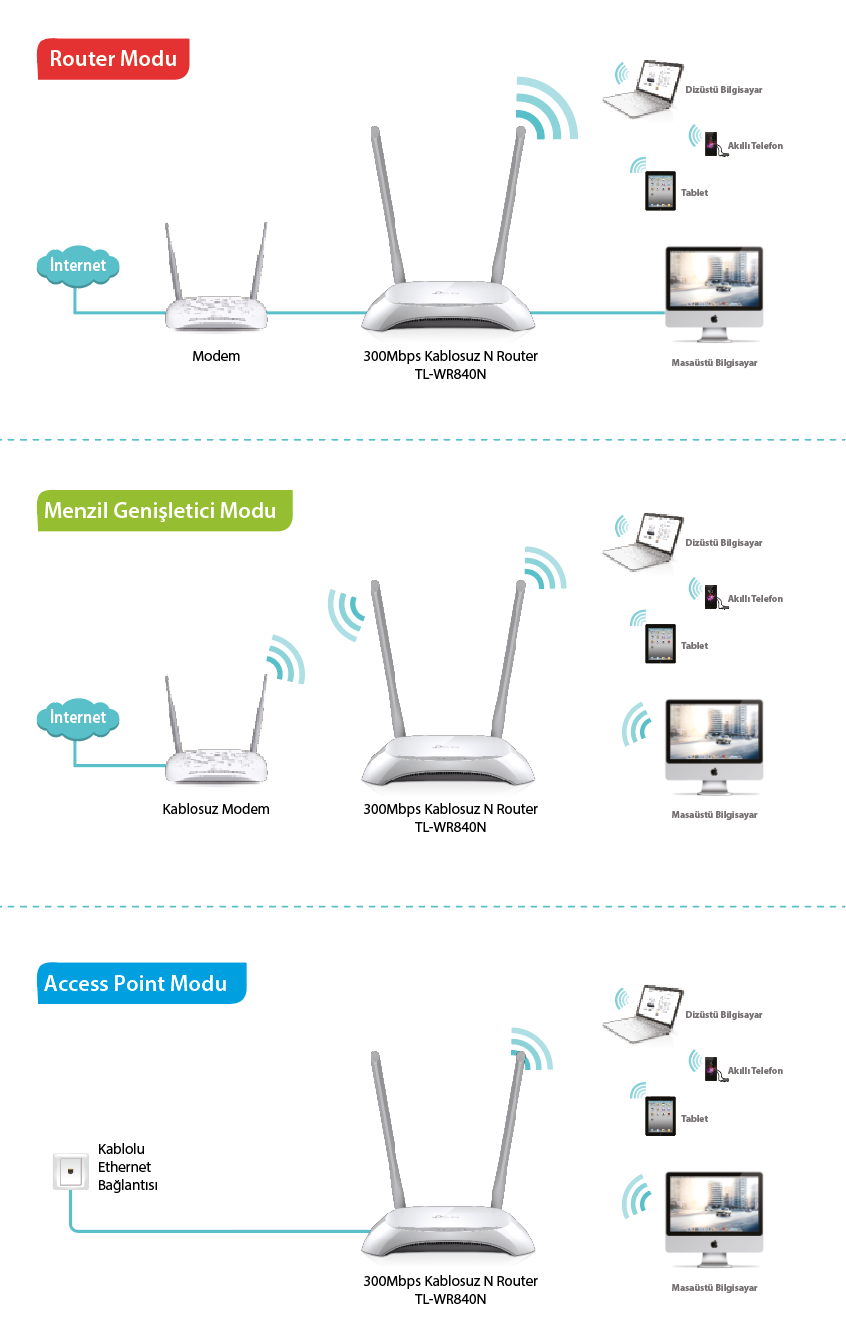 TP-Link Hakkında
TP-Link 120'yi aşkın ülkede bulunan ve milyonlarca müşterisi ile beraber dünyanın 1 numaralı kablosuz ağ üreticisidir Güçlü ARGE'si, verimli ve sıkı yönetimi ile beraber, tüm dünya çapındaki kullanıcılar için, ADSL, Routers, IP Kameralar, Powerline Adatörler, Pirint Sunucular, Medya Çeviriciler ve Ağ sunucuları ile beraber ödül kazanan ürünler üretmeye devam etmektedir.

Milyonlarca kullanıcının vermiş olduğu güvenle, TP-Link rekabetçi ağ markalarının içinde ağ ürünleri üreterek dünyada ilk 3 sıraya girmeyi hedefleyen ve dünya pazarında değerli müşterilerimizin hayatını kolaylaştıracak ağ ürünlerini dünya pazarına sunmaya devam etmektedir.

DONANIM ÖZELLİKLERİ
Arabirim
4 * 10/100Mbps LAN Portu
1 * 10/100Mbps WAN Portu
Buton
WPS/RESET Düğmesi
Anten
2 Anten
Harici Güç Kaynağı
9VDC / 0.6A
Kablosuz Standartları
IEEE 802.11n, IEEE 802.11g, IEEE 802.11b
Boyutlar ( W X D X H )
7.2 x 5.0 x 1.4in.(182 x 128 x 35 mm)
YAZILIM ÖZELLİKLERİ
Quality of Service
WMM, Bant Genişliği Kontrol
WAN Türü
Dinamik IP/Statik IP/PPPoE
/PPTP/L2TP
Yönetim
Erişim Kontrol
Yerel Yönetim
Uzak Yönetim
DHCP
Sunucu, İstemci, DHCP İstemci Listesi,
Adres Rezervasyon
Port Yönlendirme
Sanal Sunucu, Port Tetikleme, UPnP, DMZ
Dinamik DNS
DynDns, Comexe, NO-IP
VPN Pass-Through
PPTP, L2TP, IPSec (ESP Head)
Erişim Kontrolü
Ebeveyn Kontrol, Yerel Yönetim Kontrolü, Host Listesi, Erişim Çizelgesi, Kural Yönetimi
Firewall Güvenliği
DoS, SPI Firewall
IP Adres Filtreleme/MAC Adres Filtreleme/Domain Filtreleme
IP ve MAC Adres Binding
Protokoller
Support IPv4 and IPv6
Misafir Ağ
2.4GHz Guest Network x1
DİĞERLERİ
Sertifika
CE, RoHS
Paket İçeriği
Kablosuz N Router TL-WR840N
Güç Kaynağı Ünitesi
Ürün CD'si
Ethernet Kablosu
Hızlı Kurulum Kılavuzu
Sistem Gereksinimleri
Windows 2000/XP/Vista™, Windows 7, Windows 8, Windows 8.1, Windows 10 veya Mac OS veya Linux-tabanlı işletim sistemi
Ortam
Çalışma Sıcaklığı: 0℃~40℃ (32℉~104℉)
Depolama Sıcaklığı: -40℃~70℃ (-40℉~158℉)
Çalışma Nemi: 10%~90% yoğuşmasız
Depolama Nemi: 5%~90% yoğuşmasız
Warranty Period:
36 Months
Installment plan
Monthly Payment
Total price
- Vade farksız taksitler KOYU renkte gösterilmektedir.
- X+X şeklinde belritilen taksitler (Örneğin: 2+3) 2 taksit olarak işleme alınmakta ancak ilgili bankanın kampanyası dahilinde 2 taksit üzerinden işlem yapıldığı halde 2+3 yani 5 taksit olarak kartınıza ve ödemenize yansımaktadır. (2 taksit seçilmiş olsa bile banka kampanyası dahilinde ekstradan vade farkı eklenmeden işlem 5 taksite bölünmektedir.) Kampanya bankanıza bağlı olup tüm kartlarda geçerli olmayabilir.