TP-LINK EAP110 300MBPS WIRELESS N TAVAN MONTAJLI MERKEZİ WI-FI YÖNETİMLİ ACCESS POINT
Description
TP-LINK EAP110 300Mbps Wireless N Tavan Montajlı Merkezi Wi-Fi yönetimli Access Point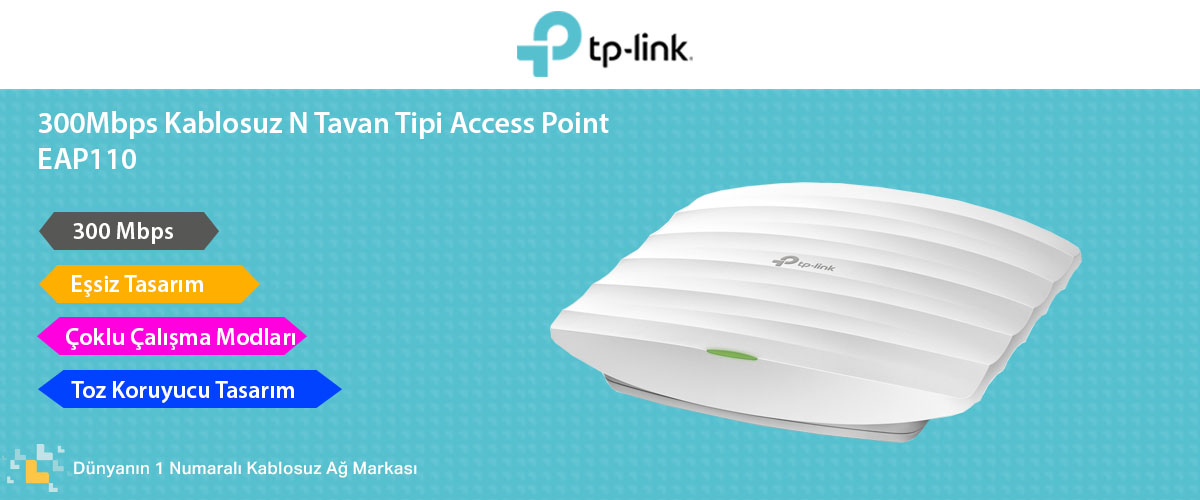 Ücretsiz Omada Denetleyici yazılımı, yöneticilerin yüzlerce EAP'yi kolayca yönetmelerini sağlar
100 metreye kadar kolay kurulum için pasif PoE'yi destekler
Şase ile tavan montajı tasarımı bir duvara veya tavan üzerine dağıtmayı kolaylaştırır
Captive portalı, WiFi misafirleri için uygun bir kimlik doğrulama yöntemi sunar
Facebook WiFi ve SMS kimlik doğrulama, işinizi artırmaya yardımcı olur
Çoklu SSID, birden fazla kablosuz ağı farklı kullanıcılar için böler
Ağ güvenliği tehditlerini azaltmak için kurumsal sınıf WiFi güvenliği yardımı
Gelişmiş bir ağ yönetimi için yönetim VLAN'ı destekler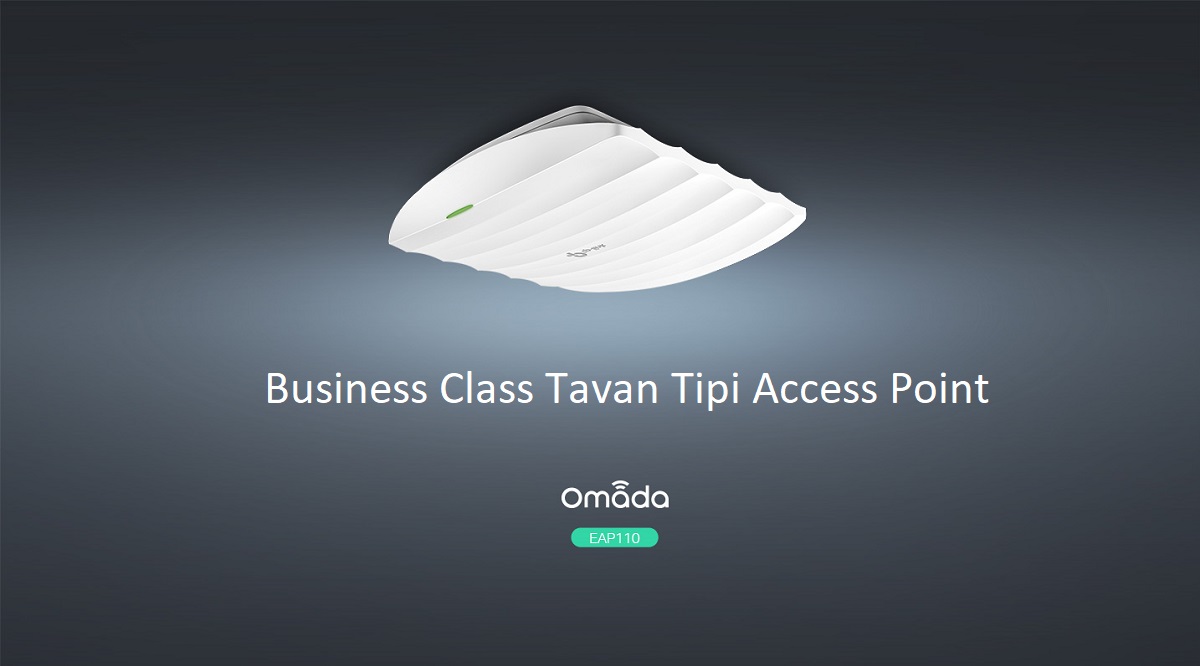 Esnek Konumlandırma EAP'ın iç mekan dekorasyonunuza mükemmel uyum sağlayan şık görünümü ve kolay montaj dizaynı ile herhangi bir yüzeye kusursuz bir şekilde monte edilebilir. EAP serisi AP'nin Pover over Ethernet (PoE) desteği, elektrik kablosuna ihtiyaç duyulmadan esnek konumlandırma sağlar.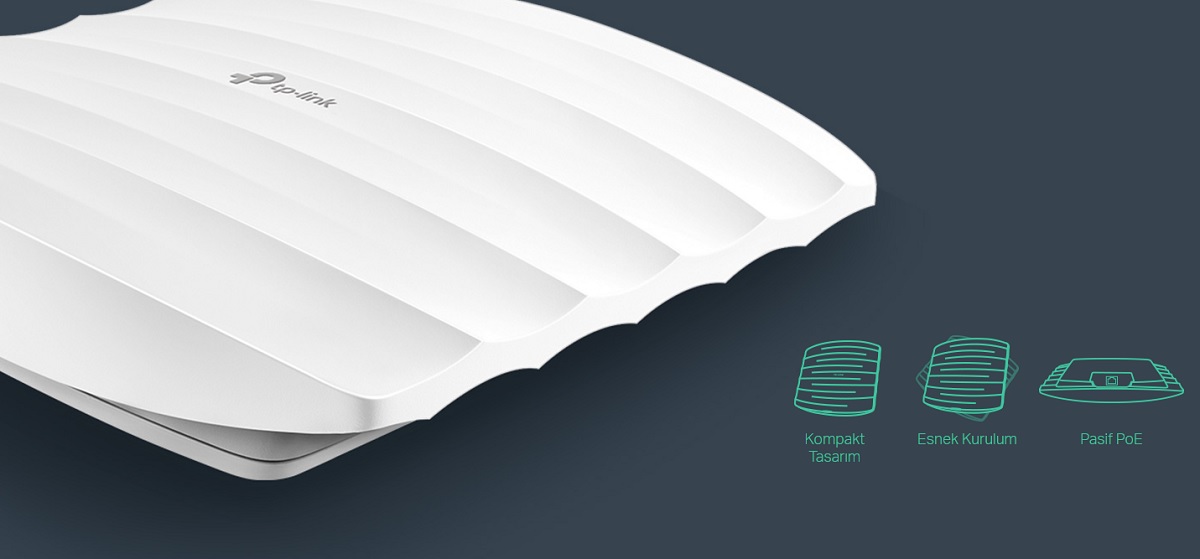 Merkezi Yönetim Platrformu(Omada Kontrol Yazılımı) Yüzlerce EAP'yi tek bir yerden kolaylıkla yönetin ve izleyin. TP-Link Omada Denetleyici yazılımı, sezgisel bir yönetim arabirimi sağlar. Bağlanan herhangi bir bilgisayardan tüm ağı kontrol edin ve harita haline getirin. Ek maliyet yoktur ve özel eğitime gerek yoktur. İş WiFi yönetimi hiç bu kadar verimli ve uygun olmamıştı.

Misafir Kimlik Doğrulaması ve Facebook & SMS Desteği Captive Portal WiFi kullanıcıları için pratik bir kimlik doğrulama sağlar. Ağ erişimine izin vermeden önce kullanıcıların belirli işlemleri gerçekleştirmesi gerekir. Bu işlemler; öncelikle geçerli kullanım politikasının kabul edilmesi veya kullanıcı ID / şifresi girildiğinde harici portal sunucu tarafından doğrulanması veya ağ yöneticisi tarafından veritabanına uyarlanması şeklinde olabilir.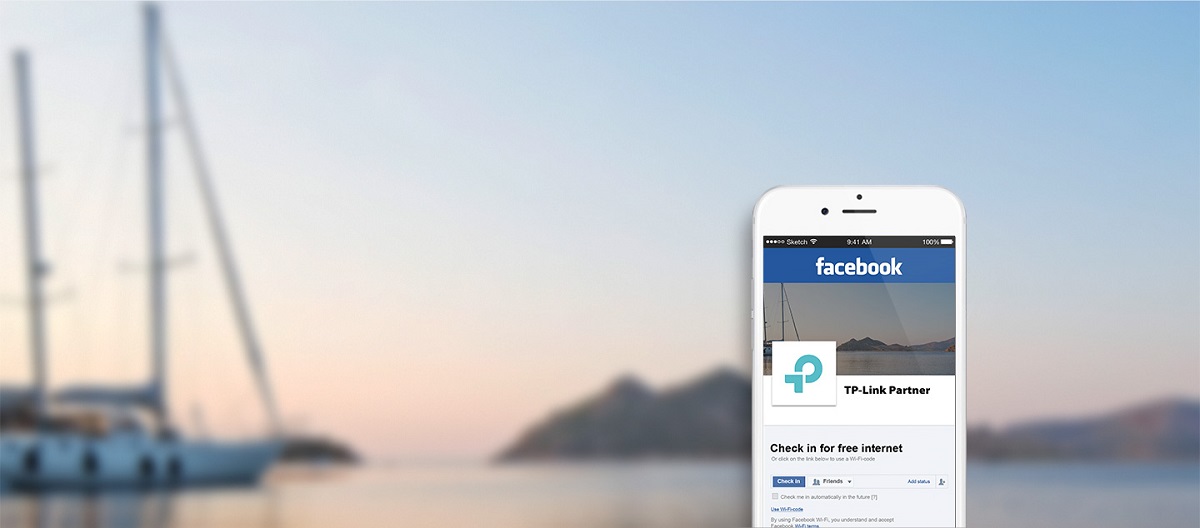 Çok kullanıcılı İş Ortamı için Birleştirilmiş Wifi(Kurumsal Performansa Göre Tasarlandı) Kolay kurulum tasarımı, PoE güç kaynağı, Merkezi yönetim yazılımı, Captive portalı, Otomatik RF yönetimi ve Kurumsal donanım ile EAP, okullar, oteller ve işletmeler de dahil olmak üzere en yoğun, en zorlu kurumsal ortamlar için özel olarak tasarlanmıştır.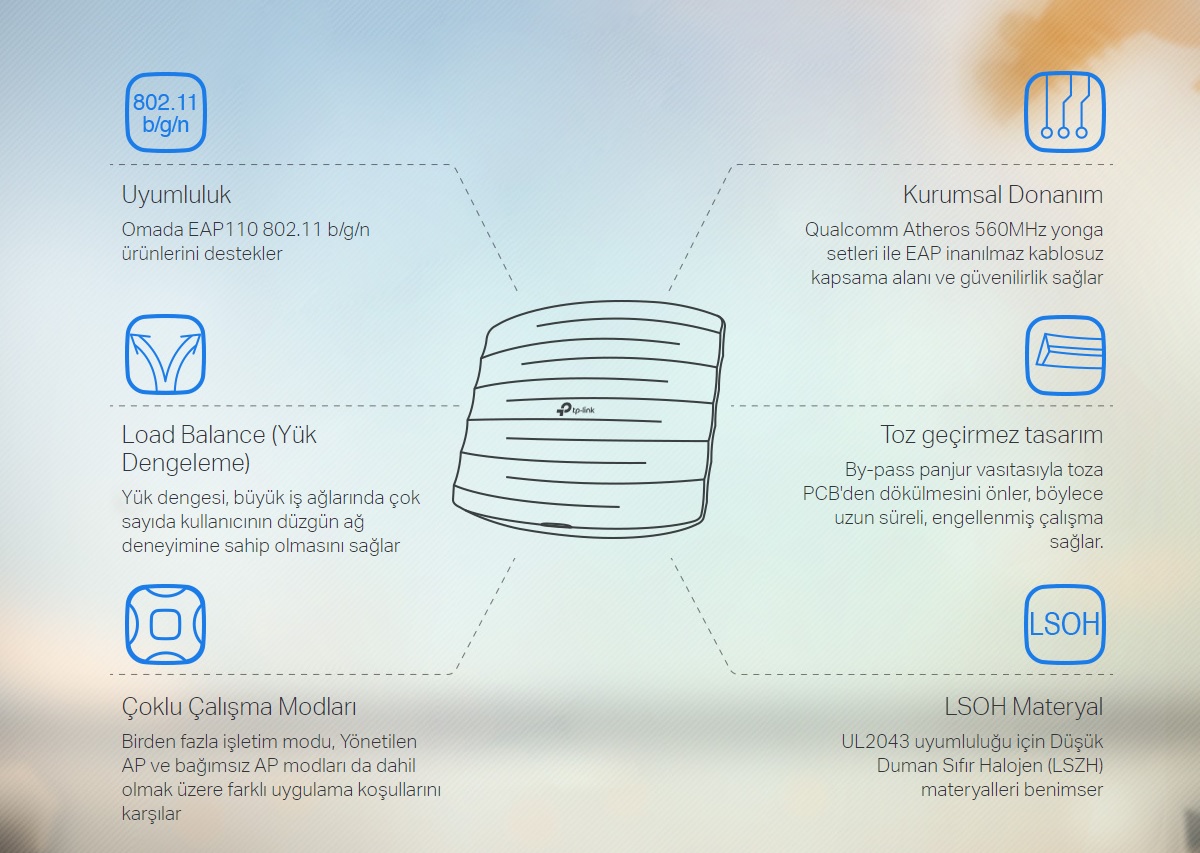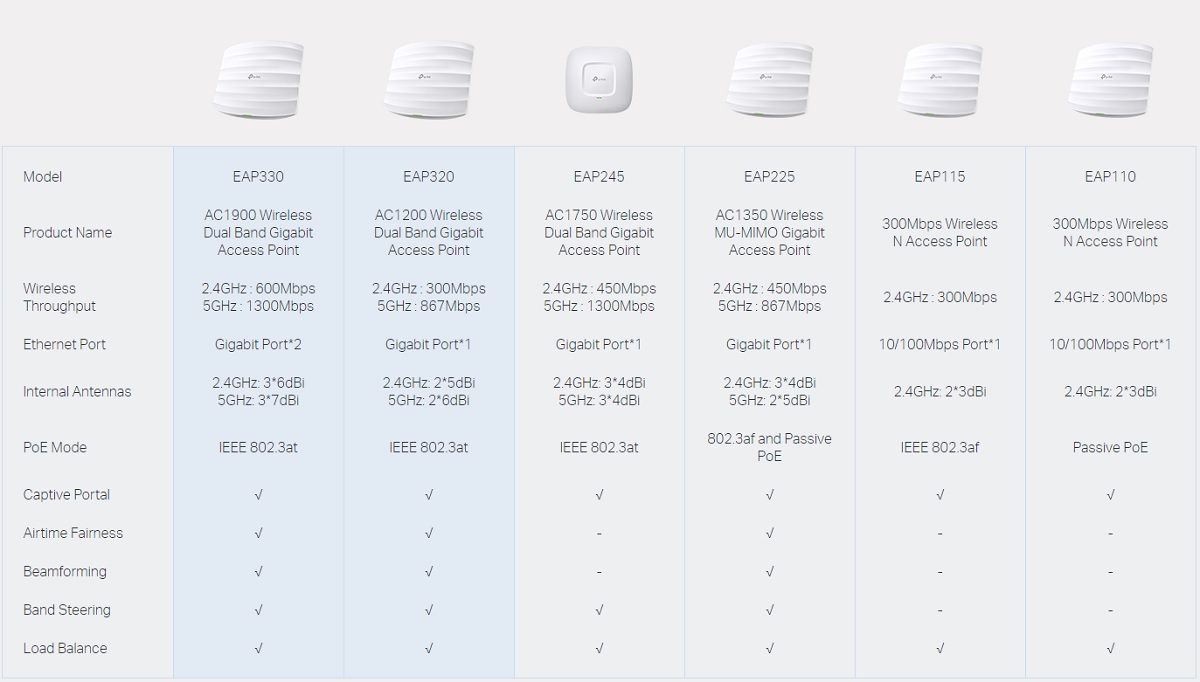 TP-Link Hakkında
TP-Link 120'yi aşkın ülkede bulunan ve milyonlarca müşterisi ile beraber dünyanın 1 numaralı kablosuz ağ üreticisidir Güçlü ARGE'si, verimli ve sıkı yönetimi ile beraber, tüm dünya çapındaki kullanıcılar için, ADSL, Routers, IP Kameralar, Powerline Adatörler, Pirint Sunucular, Medya Çeviriciler ve Ağ sunucuları ile beraber ödül kazanan ürünler üretmeye devam etmektedir.

Milyonlarca kullanıcının vermiş olduğu güvenle, TP-Link rekabetçi ağ markalarının içinde ağ ürünleri üreterek dünyada ilk 3 sıraya girmeyi hedefleyen ve dünya pazarında değerli müşterilerimizin hayatını kolaylaştıracak ağ ürünlerini dünya pazarına sunmaya devam etmektedir.
Dünyanın 1 Numaralı Kablosuz Ağ Markası
Dünyada kablosuz ağ ürünleri kullanan insanların yaklaşık olarak yarısı TP-Link kullanıyor. Her gün sevk edilen 150.000'den fazla ürün, araştırma ve geliştirmeye yapılan önemli yatırımlar ve şirket içindeki titiz tasarım, üretim ve testler ile kablosuz ağ alanında dünya lideri olmaktan gurur duyuyoruz.

*En son yayınlanan IDC Dünya Çapında Çeyreklik WLAN Takip Raporu'na (Q3 2016) göre.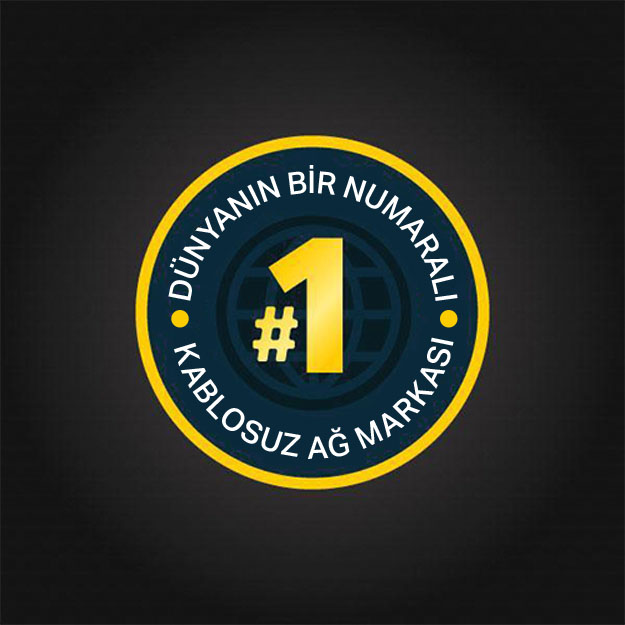 DONANIM ÖZELLİKLERİ
Arabirim
Fast Ethernet (RJ-45) Port *1(Support Passive PoE)
Buton
Reset
Güç Kaynağı
24VDC / 1A Passive PoE Supply
Güç Tüketimi
7.7W
Kablosuz Standartları
IEEE 802.11n, IEEE 802.11g, IEEE 802.11b
Boyutlar ( W X D X H )
7.1 x 7.1 x 1.9 in. (180*180*47.5mm)
Dimensions
7.5×6.8×1.2 in.
(189.4×172.3×29.5mm)
Anten Tipi
Internal 2* 3dBi Omni
Montaj
Ceiling /Wall Mounting (Kits included)
Fiziksel Güvenlik Kilidi
Kensington Lock Slot
İzleme
Yes
KABLOSUZ ÖZELLİKLERİ
Kablosuz Standartlar
IEEE 802.11n, IEEE 802.11g, IEEE 802.11b
Frekans
2.4-2.4835GHz
Bağlantı Hızı
11n: Up to 300Mbps(dynamic)
11g: Up to 54Mbps(dynamic)
11b: Up to 11Mbps(dynamic)
Alıcı Hassasiyeti
300M: -71dBm@10% PER
150M: -75dBm@10% PER
54M: -78dBm@10% PER
11M: -93dBm@8% PER
6M: -92dBm@10% PER
1M: -96dBm@8% PER
Kablosuz Fonksiyonlar
Multiple SSIDs (Up to 8 SSIDs)
Enable/Disable Wireless Radio
Automatic Channel Assignment
Transmit Power Control (Adjust Transmit Power on dBm)
QoS(WMM)
Rate Limit
Reboot Schedule
Wireless Schedule
Wireless Statistics based on SSID/AP/Client
Kablosuz Güvenlik
Captive Portal Authentication
Access Control
Wireless Mac Address Filtering
Wireless Isolation Between Clients
SSID to VLAN Mapping
Rogue AP Detection
802.1X Support
64/128/152-bit WEP / WPA / WPA2-Enterprise,WPA-PSK / WPA2-PSK
İletim Gücü
CE:
<20dBm
FCC:
<26dBm
YÖNETİM
Omada Controller Software
Evet
EAP Controller Yazılımı
Evet
Eposta Uyarı
Evet
LED Açık/Kapalı Kontrolü
Evet
MAC Erişim Kontrolü Yönetimi
Evet
SNMP
v1,v2c
Yerel/Uzak Sistem Günlüğü Kaydı
Local/Remote Syslog
Telnet
Evet
Web-tabanlı Yönetim
HTTP/HTTPS
Management VLAN
Evet
TRANSCEİVER
İletim Gücü
"Transmission Power:
CE:
≤19dBm
FCC:
≤26dBm"
DİĞERLERİ
Sertifika
CE, FCC, RoHS
Paket İçeriği
300Mbps Wireless N Ceiling Mount Access Point EAP110
Passive PoE Adapter,
Power Cord,
Mounting Kits,
Resource CD
Installation Guide
Sistem Gereksinimleri
Microsoft Windows 8/7/Vista/XP
Ortam
Operating Temperature: 0℃~40℃ (32℉~104℉)
Storage Temperature: -40℃~70℃ (-40℉~158℉)
Operating Humidity: 10%~90% non-condensing
Storage Humidity: 5%~90% non-condensing
Features
Warranty Period:
36 Months
_payment_options
Installment plan
Monthly Payment
Total price
- Vade farksız taksitler KOYU renkte gösterilmektedir.
- X+X şeklinde belritilen taksitler (Örneğin: 2+3) 2 taksit olarak işleme alınmakta ancak ilgili bankanın kampanyası dahilinde 2 taksit üzerinden işlem yapıldığı halde 2+3 yani 5 taksit olarak kartınıza ve ödemenize yansımaktadır. (2 taksit seçilmiş olsa bile banka kampanyası dahilinde ekstradan vade farkı eklenmeden işlem 5 taksite bölünmektedir.) Kampanya bankanıza bağlı olup tüm kartlarda geçerli olmayabilir.
Reviews