TP-LINK CPE610 5GHZ 300MBPS 23DBI DIŞ MEKAN ACCESS POINT
Description
TP-Link CPE610 5GHz 300Mbps 23dBi Dış Mekan Access Point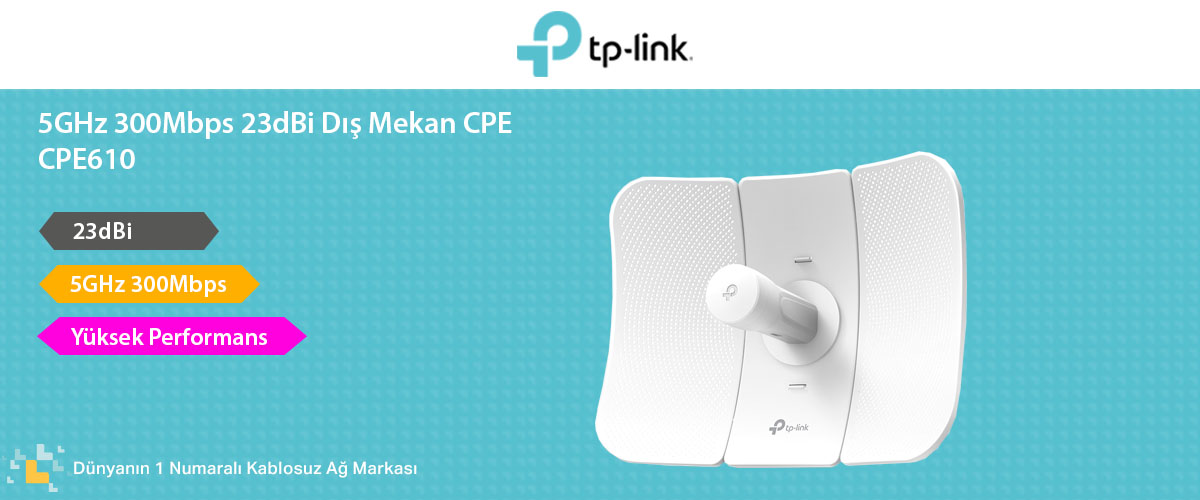 5GHz kablosuz veri hızlarıyla 300Mb/s'ye varan hızlar
23dBi yüksek kazanımlı ve yönlü 2×2 MIMO anten ve özel olarak ayrılmış metal reflektör, uzun mesafeli uygulamalar için idealdir
Mükemmel hüzme yönlülüğü, gelişmiş gecikme ve gürültü iptal
Yenilikçi yaylı kilit parçaları, hızlı kurulumu mümkün kılarken sağlam yapıya sahip tasarım, CPE610'u güçlü rüzgarlarda bile dengede tutar
Hava koşullarından etkilenmeyen dayanıklı IP65 kaplayıcı ile 15 kV ESD ve 6 kV yıldırım koruması, her türlü hava koşullarına uygunluk sağlar
TP-Link Pharos MAXtream TDMA teknolojisi veri hacmini, kapasite ve gecikme performansını iyileştirir
Pharos Control, yöneticiler için ücretsiz merkezi bir yönetim sistemi sunar
AP / İstemci / Yineleyici / AP Yönlendirici / AP İstemci Yönlendirici (WISP) çalışma modları
Pasif PoE, esnek devreye alma ve kolay kuruluma olanak tanır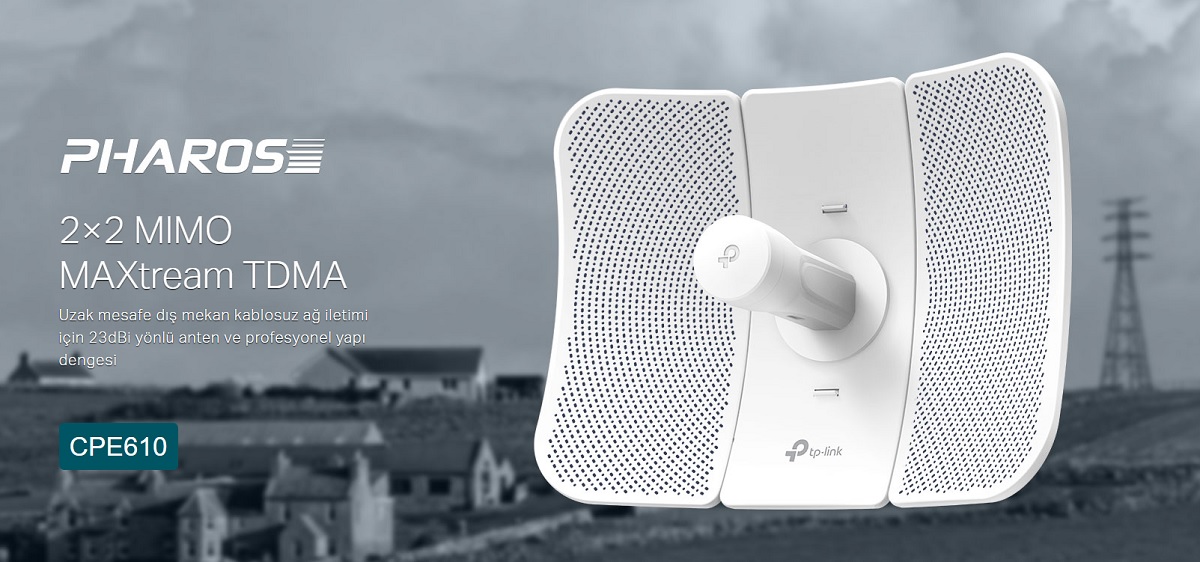 Uzun Menzilli Kablosuz Ağ İletimi için Profesyonel-standart 23dBi Yönlü Anten CPE610, 23dBi yüksek kazanımlı ve yönlü 2×2 MIMO Cassegrain anteni ve özel olarak ayrılmış metal reflektör ile mükemmel hüzme yönlülüğü, gelişmiş gecikme ve gürültü bağışıklığı sağlıyor. Kullanıcı dostu tasarımla bir araya gelen profesyonel performans, 5GHz 300 Mb/s 23dBi Dış Mekan CPE610 ürününü, dış mekan kablosuz ağ uygulamaları için ideal bir seçim ve maliyet etkin bir çözüm haline getiriyor.

Dengeli Yapısal Tasarım ve Esnek Kurulum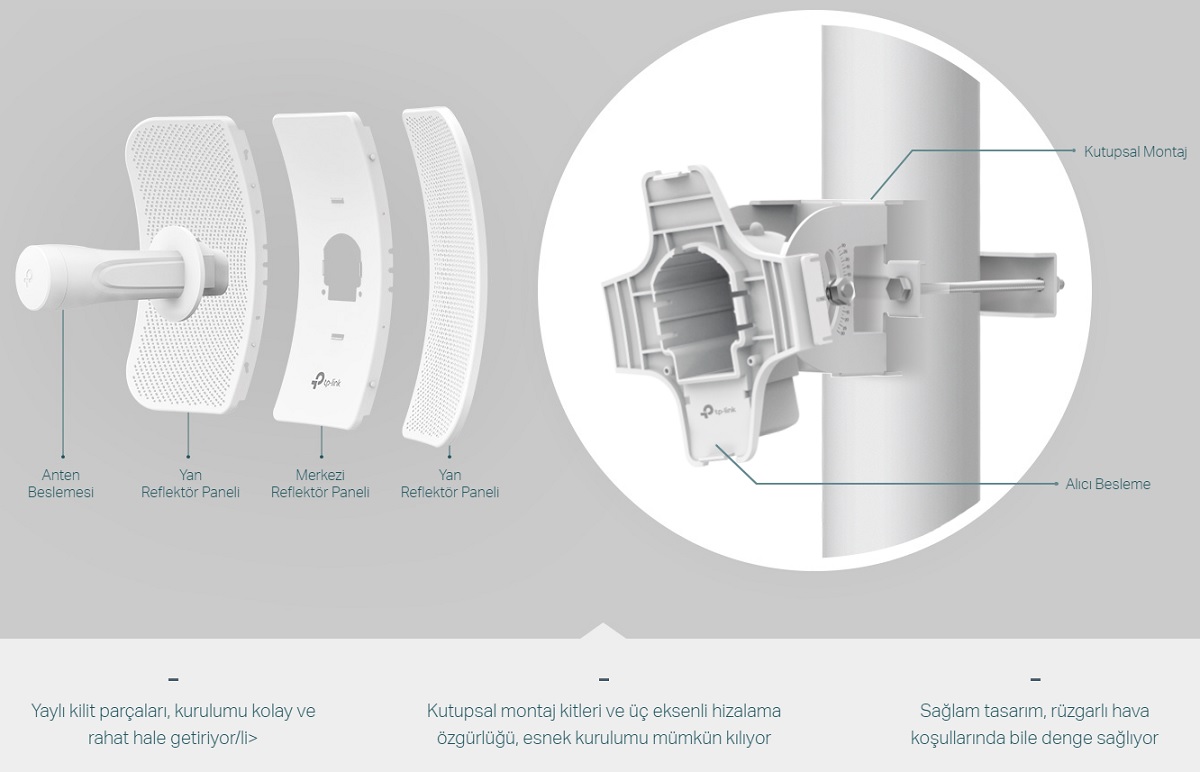 Kompakt ve Hafif Paket Küçük ve hafif kutular nakliye, lojistik ve perakende konularında fayda sağlıyor.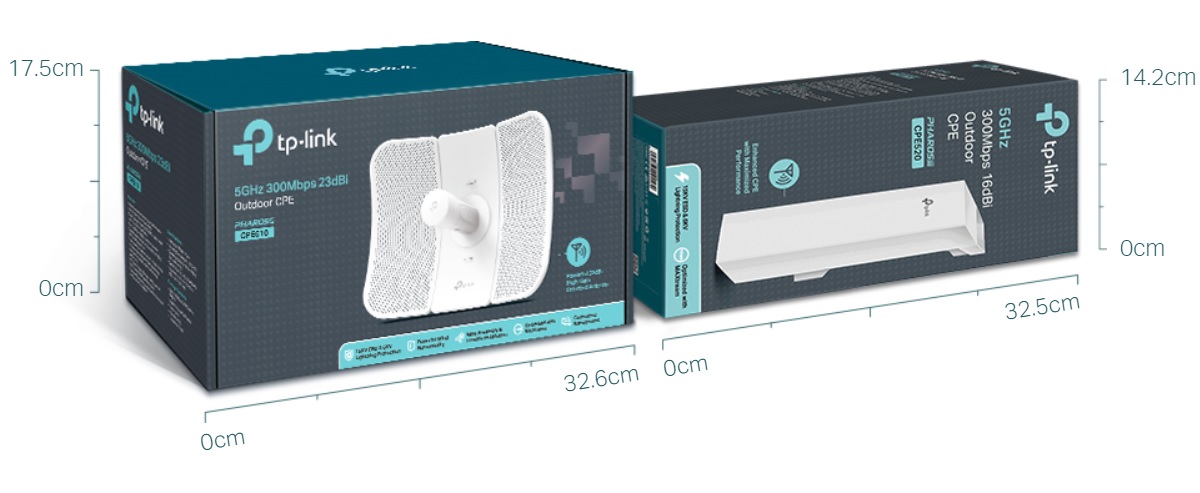 Pharos Kontrol - Merkezi Yönetim Sistemi Pharos Control merkezîleştirilmiş yönetim yazılımı kurulu olarak gelen CPE610, kullanıcıların ağlarındaki tüm cihazları tek bir bilgisayar üzerinden kolaylıkla yönetmesini mümkün kılıyor. İşlevler arasında cihaz keşfetme, durum izleme, sabit yazılım yükseltme ve ağ bakımı yer alıyor. Sezgisel bir web tabanlı arabirim olan PharOS, ayrıntılı bir yönetim şekli sunuyor ve çalışanların, daha detaylı yapılandırmalara erişmesini mümkün kılıyor.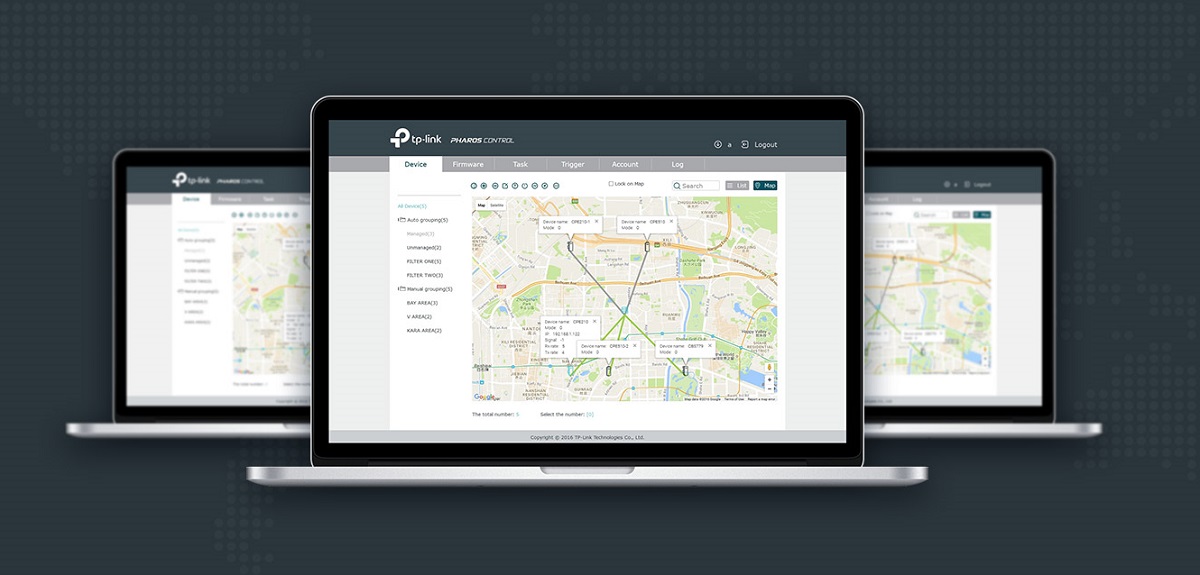 TP-Link Hakkında
TP-Link 120'yi aşkın ülkede bulunan ve milyonlarca müşterisi ile beraber dünyanın 1 numaralı kablosuz ağ üreticisidir Güçlü ARGE'si, verimli ve sıkı yönetimi ile beraber, tüm dünya çapındaki kullanıcılar için, ADSL, Routers, IP Kameralar, Powerline Adatörler, Pirint Sunucular, Medya Çeviriciler ve Ağ sunucuları ile beraber ödül kazanan ürünler üretmeye devam etmektedir.

Milyonlarca kullanıcının vermiş olduğu güvenle, TP-Link rekabetçi ağ markalarının içinde ağ ürünleri üreterek dünyada ilk 3 sıraya girmeyi hedefleyen ve dünya pazarında değerli müşterilerimizin hayatını kolaylaştıracak ağ ürünlerini dünya pazarına sunmaya devam etmektedir.

DONANIM ÖZELLİKLERİ
İşlemci
Qualcomm 560MHz CPU, MIPS 74Kc
Bellek
64MB DDR2 RAM,8MB Flash
Arabirim
1 10/100Mbps Shielded Ethernet Portu (LAN/POE)
1 Reset Buton
Güç Kaynağı
LAN yoluyla Ethernet üzerinden Pasif Güç (+4,5pin; -7,8pin)
Voltaj aralığı: 16-27VDC
Dimensions
360 x 280 x 207 mm (14.4 x 11.0 x 8.1 in.) (Montajsız)
Anten Kazancı
23dBi
Anten Beamwidth
9°(Azimuth), 7°(Elevation)
Koruma
15KV ESD Koruma
6KV Yıldırıma Karşı Koruma
Muhafaza
Malzeme: Dış mekan bilgisayar dengeli plastik
Hava koşullarından etkilenmez: IP65 su geçirmez ve tozlanmaya dayanıklı tasarım
KABLOSUZ ÖZELLİKLERİ
Kablosuz Standartlar
IEEE 802.11a/n
Tescilli Protokol
TDMA Mode (with Pharos MAXtream enabled)
Kablosuz Hızı
Up to 300Mbps (40MHz,Dynamic)
Up to 144.4Mbps (20MHz,Dynamic)
Up to 72.2Mbps (10MHz,Dynamic)
Up to 36.1Mbps (5MHz,Dynamic)
Frekans
5.15~5.85GHz
İletim Gücü
Max. 29dBm/790mW (Adjustable power by 1dBm)
YAZILIM ÖZELLİKLERİ
Ağ Yapılandırma
WAN: Statik/Dinamik/PPPoE/L2TP/PPTP
LAN: Statik/Dinamik/DHCP
Yönlendirme: DMZ/ALG/UPnP/Sanal Sunucu/Bağlantı Noktası Tetikleyici Güvenlik: SPI Güvenlik Duvarı/ Yasak Ping /VPN/DoS Koruması
Erişim Kontrolü
Statik Yönlendirme
Bant Genişliği Kontrolü
IP & MAC Adres Bağlama
Kablosuz Konfigürasyonlar
Pharos MAXtream TDMA Teknolojisi
Seçilebilir Kanal Genişliği: 5/10/20/40MHz
Otomatik Kanal Seçimi
İletim Gücü Kontrolü
Dinamik Frekans Seçimi(DFS)
WDS Etkinleştirme/Devre Dışı Bırakma
Güç: WPA/WPA2, WPA-PSK/WPA2-PSK (AES/TKIP) Şifreleme,
64/128/152-bit WEP Şifreleme
SSID Yayın Etkinleştirme/Devre Dışı Bırakma
VLAN Etiketleme ile Çoklu SSID (Yalnızca AP Modu)
Mesafe/ACK Zaman Aşımı Ayarı
Kablosuz MAC Adres Filtreleyici
Kablosuz Gelişmiş:
Hat Kesintisi Aralığı/RTS Eşik/Parçalanma Eşiği/DTIM Aralığı/AP Yalıtımı/Kısa GI/Wi-Fi Çoklu Ortam
Yönetim
Pharos Control uygulamasıyla Keşif ve Uzaktan Yönetim
HTTP/HTTPS Web tabanlı yönetim
Sistem günlüğü
SNMP Aracı(v2c)
Ping Zamanlayıcı
Dinamik DDNS
SSH Sunucu
Sistem Araçları
Göstergeler:Sinyal Gücü/Gürültü/İletim/CCQ/CPU/Bellek
Monitörler: Veri Hacmi/İstasyonlar/Arabirimler/ARP/Yollar/WAN/DHCP
Spektrum Analiz Aracı
Hız Testi
Ping
İz Yolu
Sistem Düzeyindeki Optimizasyonlar
Çok noktaya yayın uygulamaları için optimize edilmiş IGMP Gözetleme/Proxy
Donanım Zamanlayıcı
DİĞERLERİ
Sertifika
CE, FCC, RoHS, IP65
Paket İçeriği
Dış Mekan Kablosuz CPE
24V 0.5A Pasif PoE Bağdaştırıcı
Kutupsal Montaj Kemerleri
AC Güç Kablosu
Kurulum Rehberi
Sistem Gereksinimleri
Microsoft Windows 98SE, NT, 2000, XP, Vista™ veya Windows 10, Windows 8, Windows 7, MAC OS, NetWare, UNIX veya Linux.
Not: İyileştirilmiş bir kullanıcı deneyimi için aşağıdaki Web tarayıcılarından birini kullanmanızı öneririz. Google Chrome, Safari ve Firefox. IE tarayıcıları önerilmez.
Ortam
Çalışma Sıcaklığı: -40℃~70℃ (-40℉~158℉)
Depolama Sıcaklığı: -40℃~70℃ (-40℉~158℉)
Çalışma Nemi: %10~%90 yoğuşmasız
Depolama Nemi: %5~%95 yoğuşmasız
Features
Warranty Period:
36 Months
_payment_options
Installment plan
Monthly Payment
Total price
- Vade farksız taksitler KOYU renkte gösterilmektedir.
- X+X şeklinde belritilen taksitler (Örneğin: 2+3) 2 taksit olarak işleme alınmakta ancak ilgili bankanın kampanyası dahilinde 2 taksit üzerinden işlem yapıldığı halde 2+3 yani 5 taksit olarak kartınıza ve ödemenize yansımaktadır. (2 taksit seçilmiş olsa bile banka kampanyası dahilinde ekstradan vade farkı eklenmeden işlem 5 taksite bölünmektedir.) Kampanya bankanıza bağlı olup tüm kartlarda geçerli olmayabilir.
Reviews