TP-LINK CPE605 5GHZ 150MBPS 23DBI DIŞ MEKAN ACCESS POINT
Description
TP-Link CPE605 5GHz 150Mbps 23dBi Dış Mekan Access Point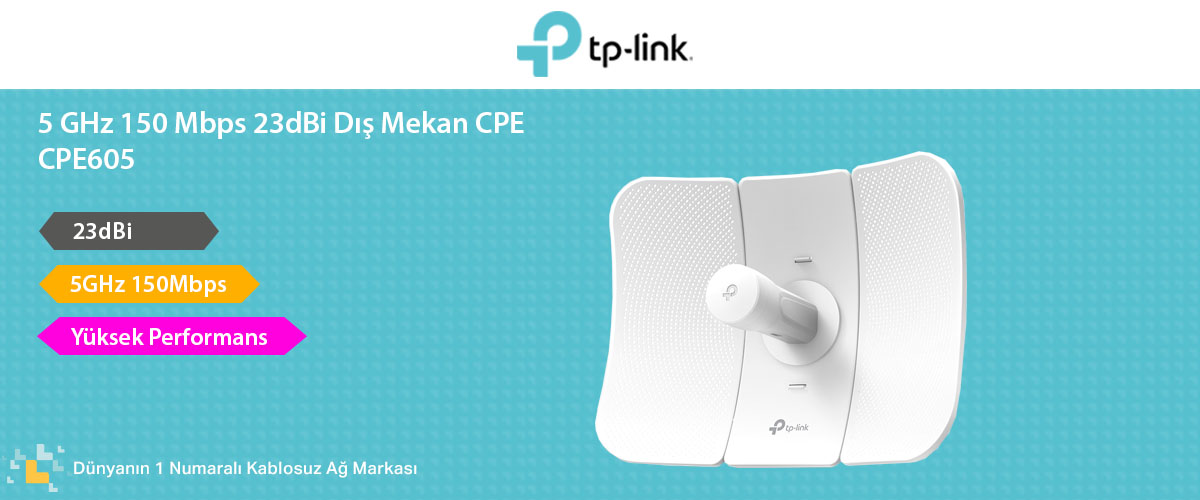 5 GHz kablosuz veri hızlarında 150 Mbps'ye kadar
23dBi yüksek kazançlı yönlü anten ve uzun mesafeli uygulamalar için ideal olan özel metal reflektör
Mükemmel ışın yönlülüğü, geliştirilmiş gecikme süresi ve gürültü önleme
Yenilikçi geçmeli parçalar hızlı montaj sağlar ve sağlam yapısal tasarım CPE605'i güçlü rüzgarlarda bile sabit tutar
15 kV ESD ve 6 kV yıldırımdan korunma ile birlikte dayanıklı IP65 hava koşullarına dayanıklı muhafaza tüm hava koşullarına uygunluğu sağlar
TP-Link Pharos MAXtream TDMA teknolojisi, verim, kapasite ve gecikme performansını iyileştirir
Pharos Control, yöneticilere ücretsiz, merkezi bir yönetim sistemi sunar
Pasif PoE esnek dağıtım ve rahat kurulum için destek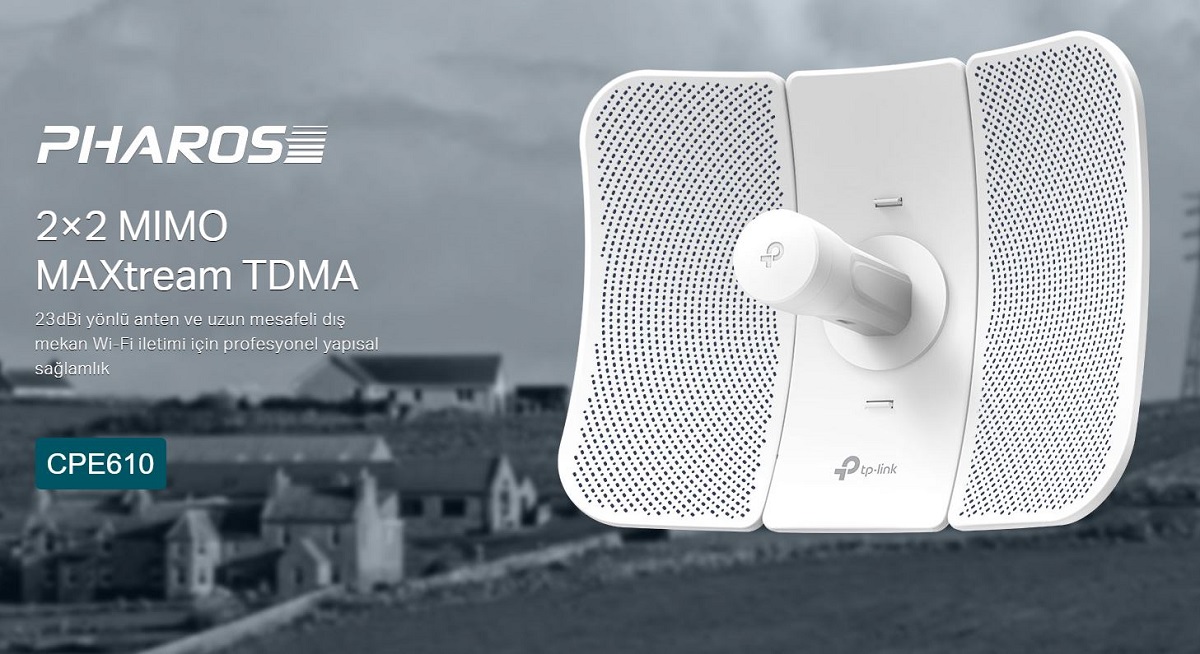 Profesyonel standart 23dBi Yönü Uzun Menzilli Kablosuz İletim için Anten 23dBi yüksek kazançlı yönlü Cassegrain anteni ve özel metal reflektörü ile CPE605, mükemmel ışın yönlendirmesi, geliştirilmiş gecikme süresi ve gürültü bağışıklığı sağlar. Kullanıcı dostu tasarıma sahip profesyonel performans, 5GHz 150Mbps 23dBi Outdoor CPE605'i dış mekan kablosuz ağ uygulamaları için ideal bir seçim ve uygun maliyetli bir çözüm haline getirir.

Kararlı Yapısal Tasarım ve Esnek Kurulum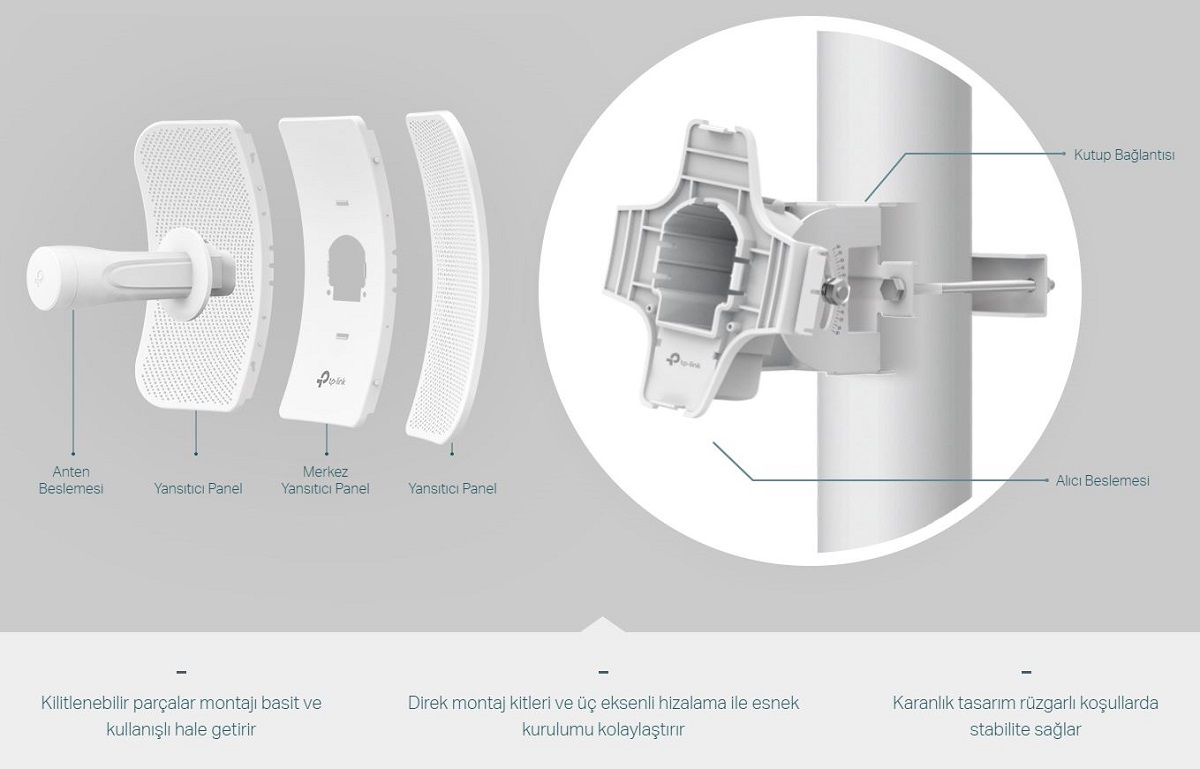 Kompakt ve Hafif Paketleme Kompakt ve Hafif Paketleme Küçük ve hafif kutular, lojistik ve perakende satıştan faydalanın.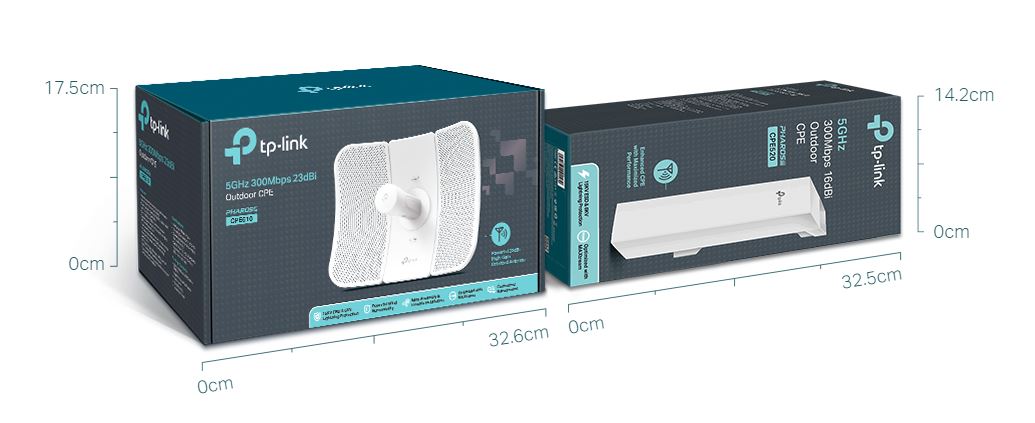 Pharos Kontrolü - Merkezi Yönetim Sistemi CPE605, kullanıcıların ağlarındaki tüm cihazları tek bir PC'den kolayca yönetmelerine yardımcı olan Pharos Control merkezi yönetim yazılımı ile birlikte gelir. İşlevler arasında cihaz bulma, durum izleme, ürün yazılımı yükseltme ve ağ bakımı bulunur. Sezgisel bir web tabanlı arayüz-PharOS-alternatif bir yönetim yöntemi sunar ve profesyonellerin daha ayrıntılı konfigürasyonlara erişmesini sağlar.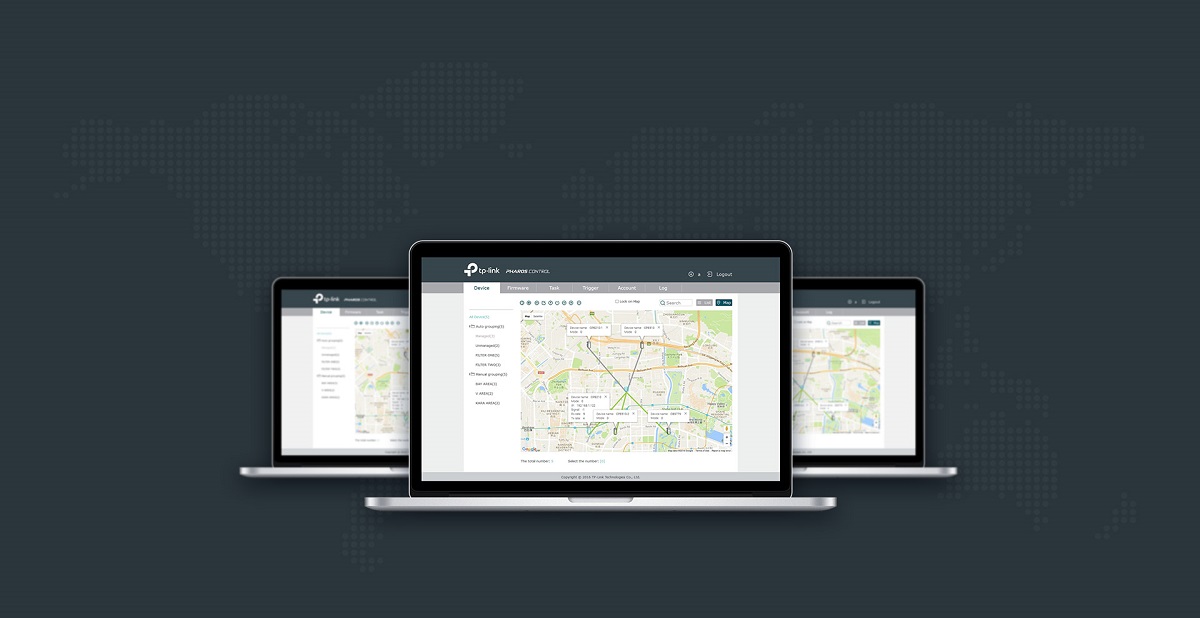 TP-Link Hakkında
TP-Link 120'yi aşkın ülkede bulunan ve milyonlarca müşterisi ile beraber dünyanın 1 numaralı kablosuz ağ üreticisidir Güçlü ARGE'si, verimli ve sıkı yönetimi ile beraber, tüm dünya çapındaki kullanıcılar için, ADSL, Routers, IP Kameralar, Powerline Adatörler, Pirint Sunucular, Medya Çeviriciler ve Ağ sunucuları ile beraber ödül kazanan ürünler üretmeye devam etmektedir.

Milyonlarca kullanıcının vermiş olduğu güvenle, TP-Link rekabetçi ağ markalarının içinde ağ ürünleri üreterek dünyada ilk 3 sıraya girmeyi hedefleyen ve dünya pazarında değerli müşterilerimizin hayatını kolaylaştıracak ağ ürünlerini dünya pazarına sunmaya devam etmektedir.
Dünyanın 1 Numaralı Kablosuz Ağ Markası
Dünyada kablosuz ağ ürünleri kullanan insanların yaklaşık olarak yarısı TP-Link kullanıyor. Her gün sevk edilen 150.000'den fazla ürün, araştırma ve geliştirmeye yapılan önemli yatırımlar ve şirket içindeki titiz tasarım, üretim ve testler ile kablosuz ağ alanında dünya lideri olmaktan gurur duyuyoruz.

*En son yayınlanan IDC Dünya Çapında Çeyreklik WLAN Takip Raporu'na (Q3 2016) göre.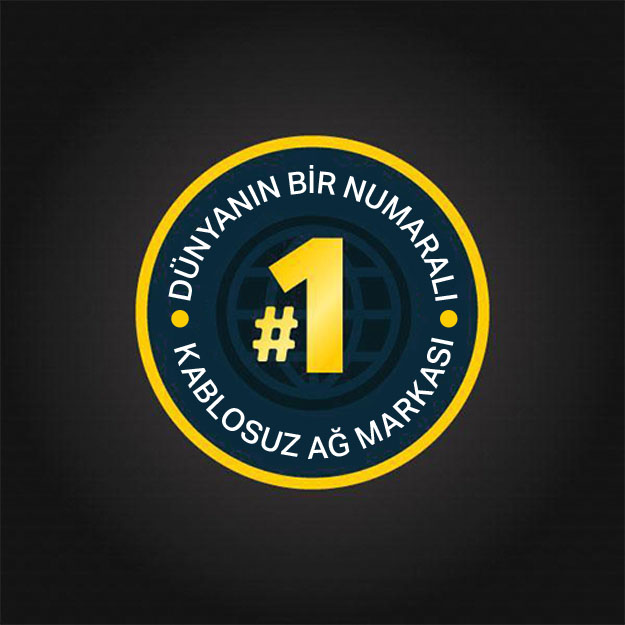 DONANIM ÖZELLİKLERİ
İşlemci
Qualcomm 560MHz CPU, MIPS 74Kc
Bellek
64MB DDR2 RAM,8MB Flash
Arabirim
1 10/100Mbps Shielded Ethernet Port (LAN/POE)
1 Reset Button
Güç Kaynağı
Passive Power over Ethernet via LAN (+4,5pins; -7,8pins)
Voltage range: 16-27VDC
Boyutlar ( W X D X H )
350 x 255 x 207 mm (13.8 x 10.0 x 8.1 in.)
Anten Kazancı
23dBi
Anten Beamwidth
7°(Azimuth), 10°(Elevation)
Koruma
15KV ESD Protection
6KV Lightning Protection
Muhafaza
Material: Outdoor PC stabilized plastic
Weatherproof: IP65 water and dust proof design
KABLOSUZ ÖZELLİKLERİ
Kablosuz Standartlar
IEEE 802.11a/n
Tescilli Protokol
TDMA Mode (with Pharos MAXtream enabled)
Kablosuz Hızı
Up to 150Mbps (40MHz,Dynamic)
Up to 72.2Mbps (20MHz,Dynamic)
Up to 36.1Mbps (10MHz,Dynamic)
Up to 18.05Mbps (5MHz,Dynamic)
Frekans
5.15~5.85GHz
İletim Gücü
Max. 23dBm (Adjustable power by 1dBm)
YAZILIM ÖZELLİKLERİ
IPv6
Yes
Ağ Yapılandırma
WAN: Static/Dynamic/PPPoE/L2TP/PPTP
LAN: Static/Dynamic/DHCP
Forwarding: ALG/UPnP/Virtual Server/Port Trigger
Security: SPI Firewall/ Ping Forbidden/DoS Protection
Access Control
Static Routing
Bandwidth Control
IP & MAC Binding
Kablosuz Konfigürasyonlar
Pharos MAXtream TDMA Technology
Selectable Channel Width: 5/10/20/40MHz
Auto Channel Selection
Transmit Power Control
Dynamic Frequency Selection(DFS)
WDS Enable/Disable
Security: WPA/WPA2, WPA-PSK/WPA2-PSK (AES/TKIP) Encryption,
64/128/152-bit WEP Encryption
SSID Broadcast Enable/Disable
Multi-SSID with VLAN Tagging(AP Mode only)
Distance/ACK Timeout Setting
Wireless MAC Address Filter
Wireless Advanced:
Beacon Interval/RTS Threshold/Fragmentation Threshold/DTIM Interval/AP Isolation/Short GI/Wi-Fi Multimedia
Yönetim
Discovery and Remote Management via Pharos Control application
HTTP/HTTPS Web-based management
System log
SNMP Agent(v2c)
Ping Watch Dog
Dynamic DDNS
SSH Server
Sistem Araçları
Indicators:Signal Strength/Noise/Transmit CCQ/CPU/Memory
Monitors: Throughput/Stations/Interfaces/ARP/Routes/WAN/DHCP
Spectrum Analyzer
Speed Test
Ping
Traceroute
Sistem Düzeyindeki Optimizasyonlar
Optimized IGMP Snooping/Proxy for multicast applications
Hardware watch dog
POE ADAPTÖR ÖZELLİKLERİ
Boyutlar (H X W X D)
85.8×43.9×29.7 mm
Arayüzler
1 AC Jack with Earth Ground
1 10/100Mbps Shielded Ethernet Port (Power + Data)
1 10/100Mbps Shielded Ethernet Port (Data)
Buton
Remote Reset Button
Güç Durum LEDleri
Green
Giriş
100-240VAC, 50/60Hz
Çıkış
24VDC, 0.6A Max
+4, 5pins; -7, 8pins. (Support up to 60m Power over Ethernet)
Verimlilik
>84.29>#/td###
Sertifikalar
CE/FCC/UL/IC/GS/PSB/C-tick/SAA/S-Mark/KC-mark
DİĞERLERİ
Sertifika
CE, FCC, RoHS, IP65
Paket İçeriği
Outdoor Wireless CPE
24V 0.5A Passive PoE Adapter
Pole Mounting Straps
AC Power Cord
Installation Guide
Sistem Gereksinimleri
Microsoft Windows 98SE, NT, 2000, XP, Vista™ or Windows 10, Windows 8, Windows 7, MAC OS, NetWare,
UNIX or Linux.
Note: We recommend you to use one of following Web browsers for an improved user experience:
Google Chrome, Safari, and Firefox. IE browsers are not recommended.
Ortam
Operating Temperature: -40℃~70℃ (-40℉~158℉)
Storage Temperature: -40℃~70℃ (-40℉~158℉)
Operating Humidity: 10%~90% non-condensing
Storage Humidity: 5%~95% non-condensing
Features
Warranty Period:
36 Months
_payment_options
Installment plan
Monthly Payment
Total price
Artı (ek) taksit kampanyası bankanızın inisiyatifinde olup şartları değişebilmektedir. Kampanyaya Akbank Axess kartlar dahil olup diğer banka kartları kampanyaya dahil değildir.
Installment plan
Monthly Payment
Total price
Artı (ek) taksit kampanyası bankanızın inisiyatifinde olup şartları değişebilmektedir. TEB bireysel ve ticari kartlar ile Şekerbank ticari kartlar kampanyaya dahil değildir.
- Vade farksız taksitler KOYU renkte gösterilmektedir.
- X+X şeklinde belirtilen taksitler (Örneğin: 2+3) 2 taksit olarak işleme alınmakta ancak ilgili bankanın kampanyası dahilinde 2 taksit üzerinden işlem yapıldığı halde 2+3 yani 5 taksit olarak kartınıza ve ödemenize yansımaktadır. (2 taksit seçilmiş olsa bile banka kampanyası dahilinde ekstradan vade farkı eklenmeden işlem 5 taksite bölünmektedir.) Kampanya bankanıza bağlı olup tüm kartlarda geçerli olmayabilir.
ÖNEMLİ NOT: Mayıs 2023 tarihinde yayınlanan Merkez Bankası genelgeleri nedeniyle ticari kartlarınızda taksitli işlem izni olmayabilir. Taksit yapıyor gibi görünse de ödeme sırasında hata alabilirsiniz. Taksit yapsa dahi artı (ek) taksitler ticari kartlarda geçerli değildir. Bireysel kartlarda ise artı (ek) taksit bankanızın inisiyatifinde olup yeni kurallar çerçevesinde kampanya bankanın dilediği zaman sonlandırılabilir ve ek taksit vermeyebilir.
Reviews
Please sign in so that we can notify you about a reply